The hologram overlay is a thin transparent protective film that can be applied to ID cards, driving licenses, passports, and travel documents to protect personalized information from forgery and tampering.
Moreover, the surface of transparent holographic overlays has a strong anti-scratch function, so as to prevent information of id credentials from daily wear and tear. At the same time, High transparency ensures personalized data is visible, but very hard to replace it.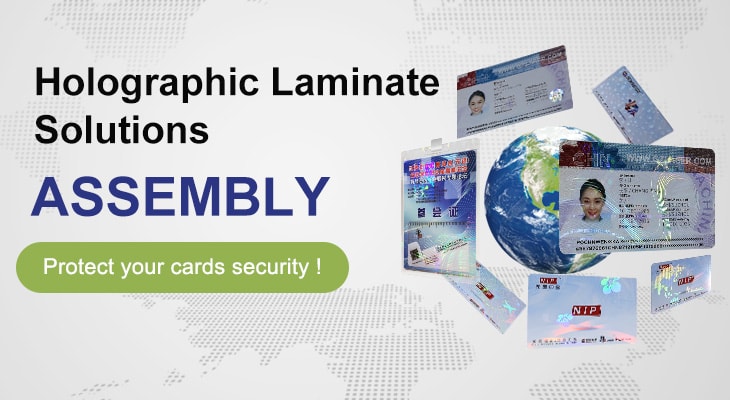 In addition to general design, we have a dedicated design team that can provide an overall custom holographic laminate solution for your project according to the requirements of each customer.
Applying these custom hologram overlays to your state IDs and documents can help prevent any form of forgery, help identify authentic documents, and ensure that all documents and certificates are highly protected.
For large size event ID badge applications, we recommend you hologram laminating pouches, which are composed of two pieces of the optical film. With the help of a heat seal laminator, documents & ID cards can be sealed together with laminating pouches, which make your id badges more durable & secure.
| Features of Holographic Overlays |
| Holographic Overlays Types |
According to the needs of different customers, we provide three different types of transparent hologram overlays. You can choose according to your product form, or consult our customer service.
Heat Laminate Holographic Overlays
The heat laminate holographic overlay has a strong resistance to scratches. It is widely used in ID cards, smart cards, driving licenses, and social insurance cards. A variety of optical elements are used in the id hologram overlay design, combined with customized graphics to enhance the security of cards and documents.
Hologram Heat Transfer Overlays
The heat transfer type custom made holographic overlay is very suitable for official documents of various card types and book types, such as national ID cards, passports, or driving licenses.
Simple personal printing on the card is not enough. This process of transferring the full holographic information layer to the official credentials can further enhance the security of your business or organization.
Holographic Cold Laminate Overlays
The holographic cold laminate overlay shown online is about 1 mm smaller than the standard cr80 card. These are generic designs, are in stock, and can be shipped immediately. You can find them on many employee IDs, access cards, student IDs, and library cards.
The hologram cold laminate overlay is very easy to apply manually, you can contact our sales for the operation method. The transparent material design makes the printed card information visible and scratch-resistant. At the same time, use honeycomb anti-tampering materials to effectively prevent the id card from being tampered with.