The embedded laminate overlay is mostly used for card-type certificate lamination production. Examples: ID Card, Bank Card, Driving Licenses, etc.
Security information is embedded in the card body, difficult to tamper evident. Only card manufacturer can use it.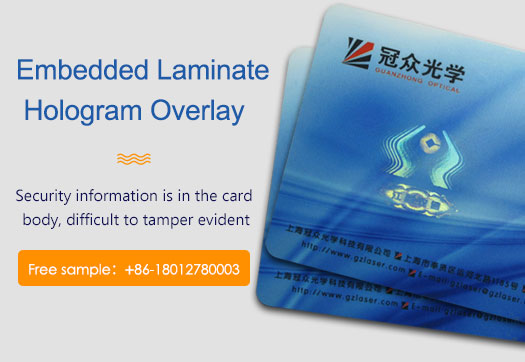 It is an embedded transparent hologram overlay that merges the film and the card into one by using a bulk production lamination machine. It allows to create totally personalized holograms to improve the security of the card to a higher level.
We provide the same material overlay same as the card body(PETG, PVC, PC) according to the card production layout, then card manufacturers use the embedded laminate film for mass production and to laminate together with multi-row card and chip. Then printing and die-cutting into single cards.
Security layer generally is under personalized information layer, only partially security pattern, not cover whole card, so that avoid pattern covered by personalized information ink.
| Features of Embedded Hologram Overlay |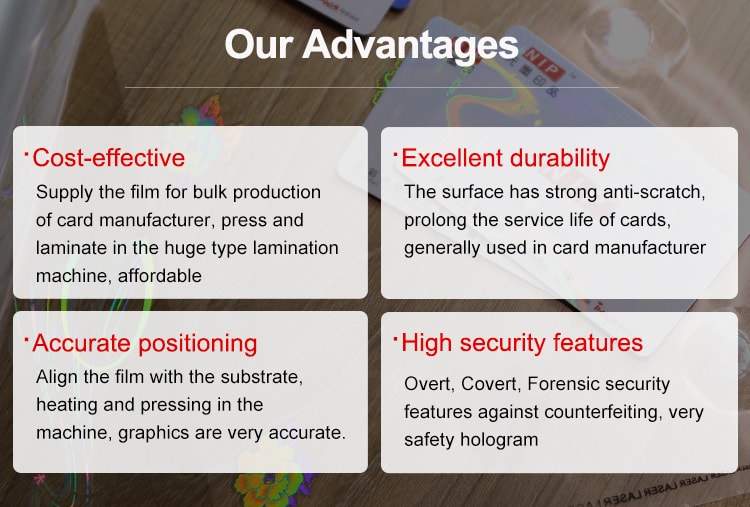 | Specification of Embedded Laminate Film |
| | | | |
| --- | --- | --- | --- |
| Size | Thickness | Multi-row layout | Packaging |
| Customized | 50um | 32 /24 rows | 100 Sheet/Pack |
| How to Apply Embedded Holographic Overlay |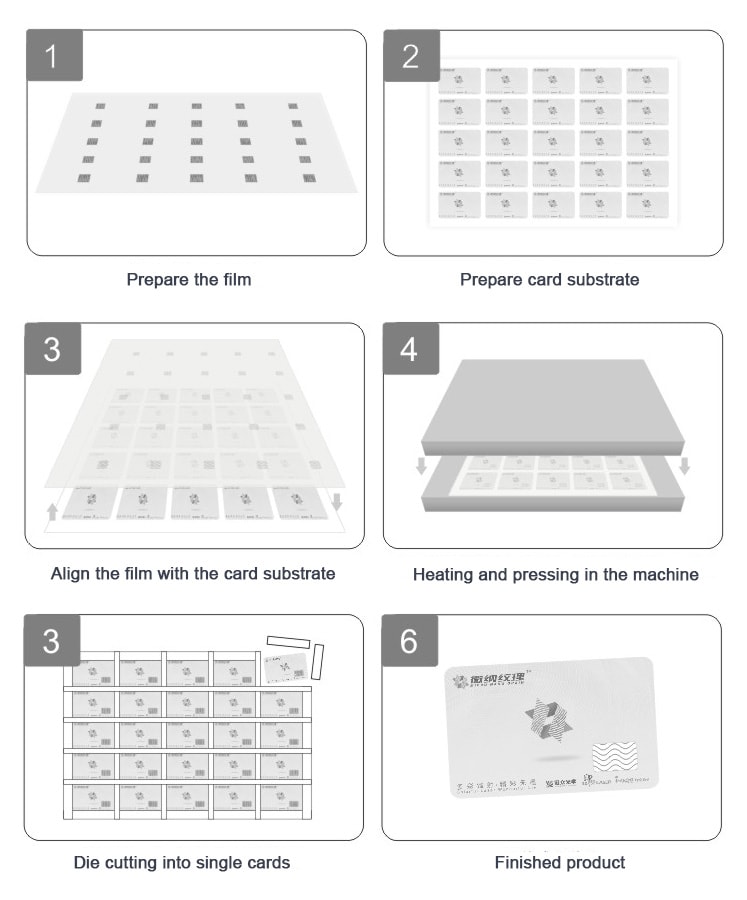 | Usage Advice of Embedded Laminate Overlay |
Operational environment
PC material: Recommended laminate temperature is 180℃±2℃, the recommended laminate time is 23min.
PVC material: Recommend lamination temperature is 105℃±2℃, recommended lamination time is 23 min
Preservation environment
Ambient temperature 20°C – 30°C, Humidity 45%-60%
Executive standard
GB/T17554.1-2006 GB/T1766-2008
Common problem
Layout deviation, bad fastness of security pattern. Partial area use it