As a security hologram manufacturer, Suzhou Image Laser provides various forms of security heat laminate solutions to protect personal data of your ID cards, proximity cards and driving license from tampering and counterfeiting.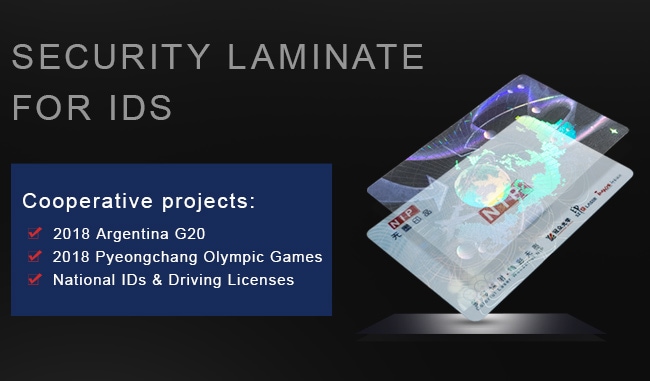 Currently, there are two widely used, one is the surface covered overlay, and the other is the embedded hologram laminate overlay. The hologram overlay can be heat laminated on the surface of the ID or embedded in the card body using a special device to protect the ID card from being forged.
| Surface Covered Hologram Overlay/Hologram Patch |
First, let's introduce the first type of surface covered hologram heat laminate overlays, often called hologram patch. They use PET as a carrier and have a pre-cut PET film with optical design. It is difficult to peel off the film, and the surface of the card has a high resistance function, which can prevent the card printing information from being tampered with.
Widely used in ID cards, driving licenses, social security cards, etc. Extend the service life of the card and prevent personal information from being tampered with.
| Features of Surface Covered Hologram Patch |
| Specification of Hologram Overlay/Patch |
| | | | | |
| --- | --- | --- | --- | --- |
| Size | Thickness | Film direction | Inner Core | Packaging |
| 84X52mm | 15um | Vertical horizontal input | 3 Inches core Or customized core | 200pcs/Roll White box packaging |
| Usage Advice of Surface Covered Hologram Patch |
Operational environment
Check Ensure card material, Laminate machine characteristics, and inner core size to select or customized suitable hologram overlay.
Recommended hot stamping temperature 200℃±5℃
Recommended hot stamping speed 8mm-10mm/S
Preservation environment
Ambient temperature 20°C – 30°C,
Humidity 45%-60%
Executive standard
GB/T17554.1-2006 GB/T1766-2008
Based card
PVC/PETG
Common problem
Dirty environment may cause bubble and bumps
| Embedded Type Hologram Heat Laminate Overlay |
The second type is embedded form hologram laminate overlay, micro-nano optical security information embedded in card body, hard to damage, easy for mass production, and security layer is under personalized information layer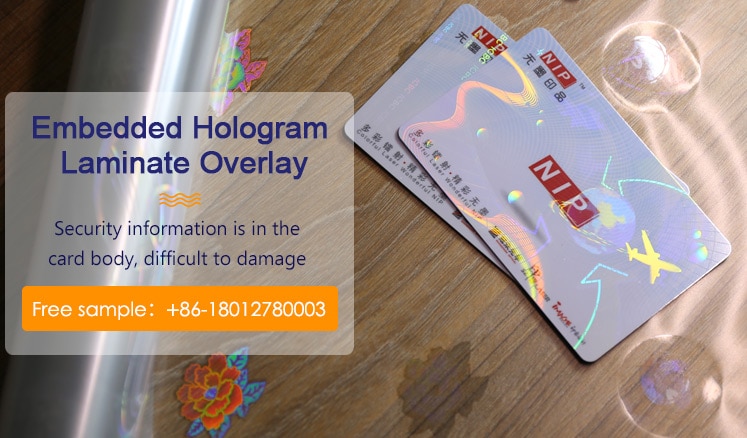 Partially security pattern, the security layer will not cover the whole card to avoid pattern covered by personalized information ink.
Generally, card manufacturers use this embedded hologram heat laminate overlay for mass production, multi-row layout, laminate the security optical film together with multi-row card and chip, then pre-printing, finally cut into single card and ship to the corresponding department to print personalized information. Mostly used for ID Cards, bank cards, driving license, etc.
| Specification of Embedded Hologram Laminate Overlay |
| | | | |
| --- | --- | --- | --- |
| Size | Thickness | Multi-row layout | Packaging |
| Customized | 50um | 32 /24 rows | 100 Sheet/Pack |
| Usage Advice of Embedded Holo Laminate Overlay |
Operational environment
PC material: Recommended laminate temperature is 180℃±2℃, the recommended laminate time is 23min.
PVC material: Recommend lamination temperature is 105℃±2℃, recommended lamination time is 23 min
Preservation environment
Ambient temperature 20°C – 30°C, Humidity 45%-60%
Executive standard
GB/T17554.1-2006 GB/T1766-2008
Common problem
Layout deviation, bad fastness of security pattern. Partial area use it