Holographic Ribbon for PVC Card Printers
The card type holographic thermal transfer ribbon is a kind of optical security film with separate and transfer features. It uses PET as a carrier and can realize the customized design.
For example, you can embed your own logo and text in the hologram ribbon, and then emboss them on the transparent PET material for easy recognition and anti-counterfeiting purposes.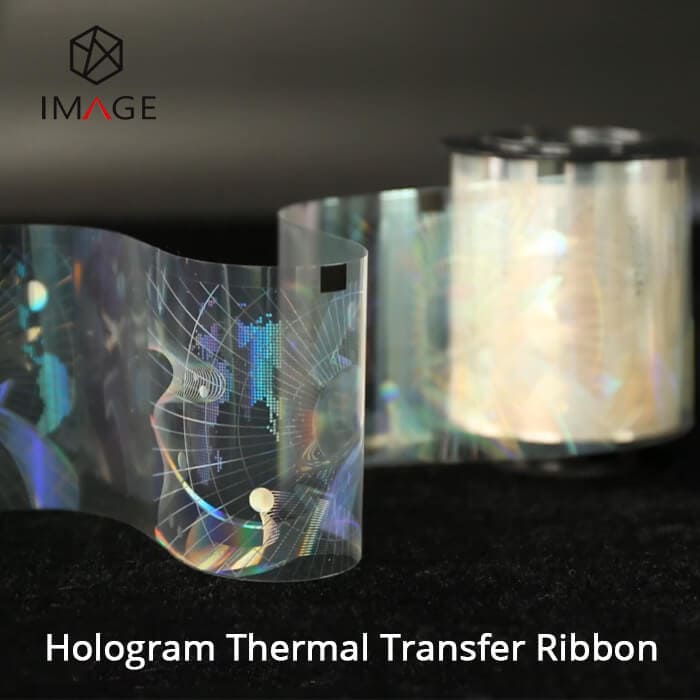 After being laminated with the ID card, the PET layer on the transparent hologram ribbon is separated, and the optical security information protection layer is transferred to the surface of the ID card. The finished product has a seamless visual effect to ensure it's easy to check personalized printing information that pre-printed on the card body and can protect them from tampering.
The hologram transfer ribbon produced by Suzhou Image Laser Company is widely used for card-type documents, such as personal identification documents, Exit-Entry permit documents, airports, and other security identification documents, to prevent personal information from tampering. Moreover, It's compatible with PVC card printers to realize custom printing.
In order to meet the needs of customers in all aspects, Suzhou Image Laser also provides other laminate solutions, such as heat laminate overlay and cold laminate overlay.
| Features of Hologram Thermal Transfer Ribbon |
| Holographic Thermal Ribbon Gallery |
The holographic image of the thermal transfer ribbon can be transferred to ID cards by using thermal transfer printers. At present, our company has developed some general patterns that can be used for sample testing and basic anti-counterfeiting protection. For customized needs, please contact our sales.
| Specification of Hologram Ribbons |
| | | | | |
| --- | --- | --- | --- | --- |
| Size | Thickness | Direction of roll | Core | Packaging |
| 60*48mm | 21um | Vertical horizontal input | 3 Inches core/ Customized core | 400pcs/Roll White box packaging |
| Using Advice of Holographic Ribbons |
| | |
| --- | --- |
| Operational environment | Check card material, heat transfer machine features, Core size, card entry mode. Ensure machine temperature reach 180°C±5°C, speed is 8mm-10mm/S |
| Preservation environment | Ambient temperature 20°C – 30°C, Humidity 45%-60% |
| Executive standard | GB/T17554.1-2006 GB/T1766-2008 |
| Based card | PVC/PETG |
| Common problem | Dirty card cause poor combination, partial abscission or raised spots |
| Key Quality Index (KQI) |
| | |
| --- | --- |
| Material transmittance | ≥77% security layer testing result |
| Material haze | ≤17% security layer testing result |
| Resistance after transferring | Security layer damaged 2 times/ Security layer damaged completely 50 times |
| Surface hardness | HB |
| Adhesion Test Procedure (ASTM) | 5B |
| Solvent resistance | Acidic human sweat conforms/ alkaline human sweat confirms/60% ethanol |
The Performance index in the table is the typical value for reference, not guarantee value, please confirm all details to contract. The above index is the typical value is not guaranteeing value, only for reference. The specific index is subject to the contract.
The above indicator data may be further improved with technology and machine update, please contact us to confirm all details. Due to the advancement of technology, the above indicators may be further improved. Please consult the sales engineer to confirm.