What is a Hologram Sticker? A holographic sticker is an optical self-adhesive label attached to various packaging items. It has attractive visual effects and embeds many anti-counterfeiting elements. The application of holographic labels not only adds a striking effect to your packaging but also protects the safety of brands and products. Because its production requires advanced dot-matrix machines and professional technicians, it is extremely difficult to counterfeit.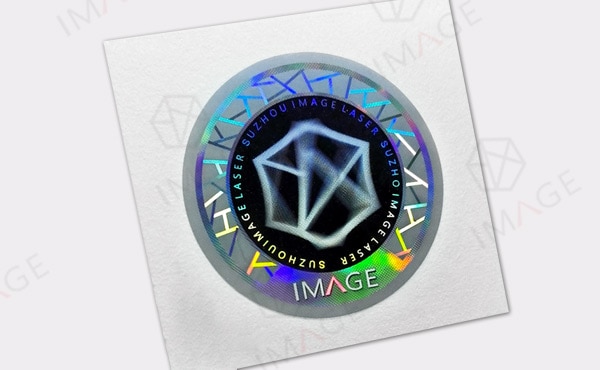 Holographic stickers are usually affixed to brand products for protection and promotion purposes. To enhance a level of anti-fake protection, they can be incorporated with custom information, such as your logo, brand message, and forensic security elements), so that hologram labels themselves are almost impossible to be counterfeited without the hologram master system.
In order to better serve customers, we provide a hologram sticker design service, and the design is completed within 12 hours.
| Types of Holographic Stickers |
Holographic stickers are produced by high-resolution optical equipment, which can present rich optical colors and dynamic 2D/3D depth of field. Combine advanced optical features to protect your brand and products.
As one of the professional optical hologram stickers and labels manufacturers in China, the only thing that Suzhou Image Laser still remained principle throughout is to provide beautiful hologram sticker products with customers honestly. The following are our sticker types.
| Features of Holographic Labels |
| Hologram Stickers Price |
Different sizes, colors, design requirements, and technological processes ultimately lead to different prices for hologram stickers. The following price list is for reference only. There are two forms of finished holographic optical stickers, one is in roll supply, the other one is a single sheet supply, depending on your own needs.
| | | |
| --- | --- | --- |
| Size | MOQ | Price |
| ≤20mm | 50K | $0.023 |
| | 100K | $0.018 |
| | 500K | $0.008 |
| | 1M | $0.006 |
If you want to know the exact hologram sticker price, please contact us and send your detailed requirements.
| Application of Hologram Optical Stickers |
With the rapid development of printing technologies, the counterfeiting issue has risen exponentially. Those fake products have a bad influence on brand image, at the same time, lead to losses to the client. So the application of hologram stickers is urgent and necessary.
Suzhou Image Laser has been engaged in the production and sales of hologram stickers for more than ten years. The labels our company produced can be pasted onto various industries' packaging and different substrates to protect, and authenticate products. Here are some examples of holographic label applications.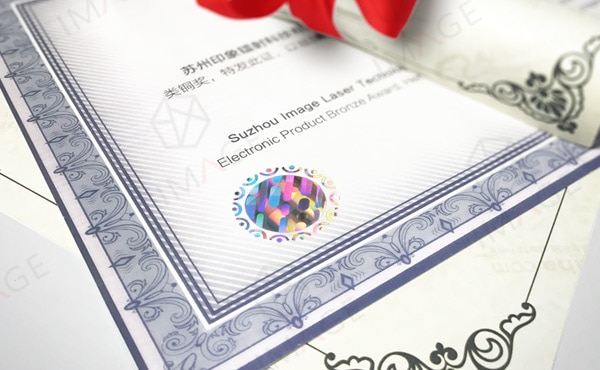 For certificate applications, we recommend this round shape hologram sticker. Most qualification certificates and sensitive documents use these labels to protect information from alteration and forgery.
They can be affixed to university certificates or be stamped on them, After hot stamping, the sticker cannot be lifted up or moved. Therefore, this is a good way to recognize that your certificates are original ones.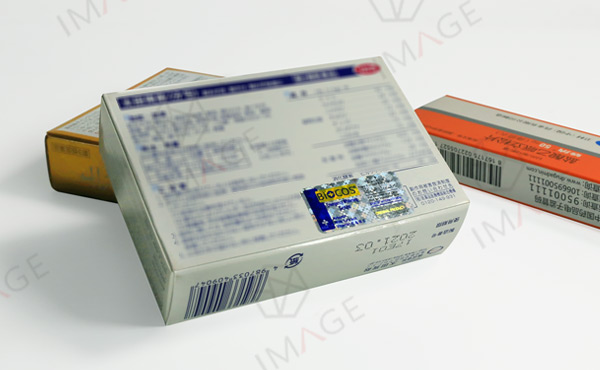 Our company has specially designed hologram stickers for the pharmaceutical packaging industry, which can be pasted to the sealed area of ​​medicine boxes and bottles to protect the safety of medicines and prevent forgery.
The drug hologram label uses unique imprinting technology (black and blueprinting) and incorporates advanced hologram technology, which makes drug packaging difficult to counterfeit and present shiny optical colors.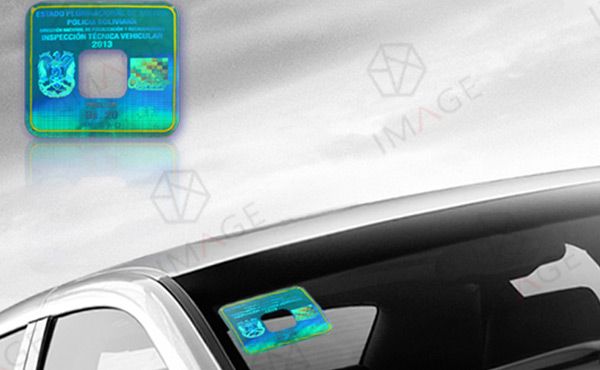 Suzhou Image Laser has undertaken many hologram security sticker projects applied to vehicle documents, and we have extensive experience in this field. You can observe that this type of holographic sticker is usually attached to the inside of the car's windshield so that the inspector can verify it on site.
At the same time, it can check whether the car owner has passed the technical inspection, paid the road tax and insurance.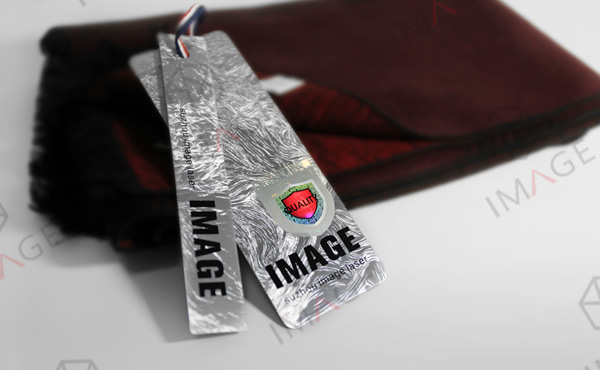 Hologram labels can be used in clothing products to achieve visual effects, promotion, and brand security protection. It gives customers a feeling that the absence of the label is evidence of it not being genuine.
The use of optical labels not only protects products, but also establishes the credibility of products among consumers, and consumers believe that manufacturers only want to provide authentic products.
In addition, our hologram stickers can also be used for ID cards, tickets, baseball caps, baseball bats, CDs, DVDs, & various brand packaging (electronics, cosmetics, food, and so forth)
| FAQ of Holographic Stickers |
| Other Products You May Like |