Tamper Evident Hologram Stickers
Protect brand package items from forgery, tampering, and counterfeiting. Tamper evident labels are usually attached to the seal of the package. When the label is removed from the surface where it's attached, the hologram image will be destroyed.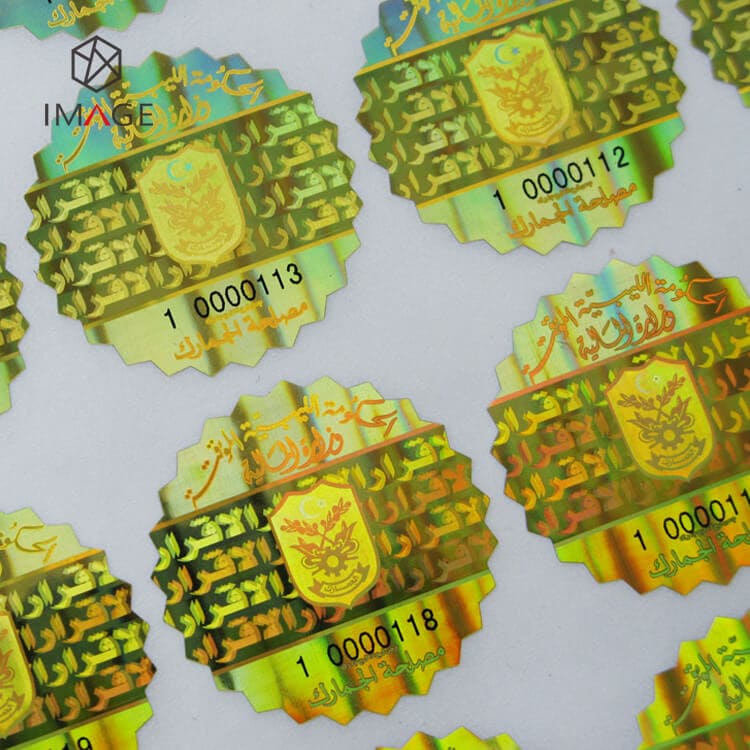 Tamper evident stickers are produced by making use of special self-adhesive material, which has the feature of self-destructive. That means labels will be destroyed while peeling off it from the original surface, pattern " VOID, Honeycomb or Custom information" will be observed on the original position.
Our company mainly provides tamper evident holographic stickers, which are special, high-tech, and dynamic change optical stickers compared with common tamper proof labels. Generally speaking, The packaging seal mostly utilizes this sticker.
Because tamper-resistant material adds additional security protection to products and valuable documents and helps them combat unauthorized access. This gives your customers confidence that products or important documents are genuine. 
Hologram tamper-proof stickers can be incorporated with custom logos and company information to further increase the difficulty of counterfeiting. These labels can be used for varieties of industries, such as food, pharmaceutical, cosmetics, electronics, important certificates, and so on, aiming to protect and authenticate products.
| Features of Tamper Evident Holographic Labels |
| Types of Hologram Tamper Proof Labels |
There are six tamper proof labels materials that can be used for package seal position to prevent your products from tampering, including "VOID", Honeycomb", Anti-tampering cutting, Dots pattern, Fragile paper, further, it can also be in other custom logo tamper evident designs. Special patterns, like the void, will be left behind if someone tries to break the seal.
| Hologram Tamper Proof Stickers Gallery |
Suzhou Image is proud to offer a wide range of hologram tamper proof stickers in customized specifications such as sizes, colors, shapes & logos. Multi-security features can be embedded into these labels so s as to protect your brands from suffering fake products. Tamper evident materials offer additional security to products.
From small wholesalers to successful top brands, they both choose tamper proof holograms products to protect their products. It will make customers believe that the products that reach them are genuine. In the long run, they will trust your brands more.
In addition to holographic tamper-resistant labels, to satisfy specific needs, our company self-develop a series of QR code stickers and printable holograms to catering to market requirements. They give additional high security to fight against fake products.
Choose Suzhou Image Laser and put our more than 30 years of expertise to work for you. We'll help create unique & secure hologram expressions for your brand & products. Check out our more custom hologram stickers, you will find one you like.
If you want to know more about tamper evident holographic stickers, please visit the following two articles.