The hologram tear tape made by Suzhou Image laser is widely applied to the outer package of cigarette, tea, cosmetic & pharmaceutical for the purpose of easy opening, brand security & promotion. Among them, the application of tobacco packing accounts for more than 80%.
To cater to market requirements, our company developed all types of holographic tear tapes for cigarette brands and other industries applications around the world. They can be customized with various materials, colors, specifications & security features.
The Main Types of Holographic Tear Tapes
Based on materials, they can be divided into BOPP, MOPP, PET tear tape. Based on colors, gold, silver, and transparent tear tape.
Based on specifications:
| | | |
| --- | --- | --- |
| Slit width | Roll Lengths | Core Diameter |
| 2mm | 5000m | 30mm |
| 2.5mm | 8000m | 76mm |
| 3mm | 10000m | 82mm |
| 3.5mm | 12000m | 152mm |
| Customized | Customized | Accept customize |
In addition to this, we also produce different edges tear tapes, including smooth lines, wavy line, or others. Seeing the following pictures.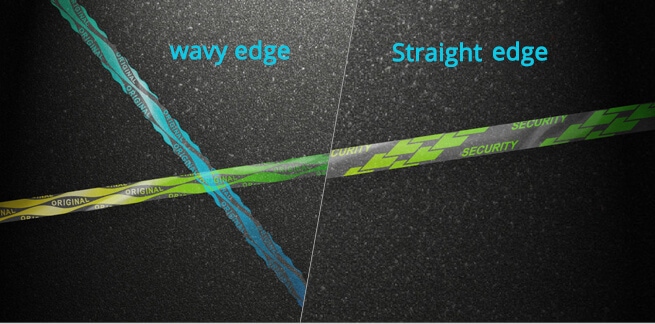 How to Use Hologram Tear Tape to Combat Counterfeiting?
In order to enhance security, various information (such as brand logos, names, and graphics) can be printed on the tear tape material to protect and promote the brand. Therefore, its use can greatly protect the brand owner's products from counterfeiting.
A, Overt security features that are easy to recognize by naked eyes
B, Covert security features that view by special tools & angles
Such as Holographic Grating, UV Ink & Micro text.
C, Forensic features that require specialized technicians to verify
D, Meanwhile these holograms can be combined with de-metalized processing to raise their visual effect and security.
We can add those security features to enhance your brand and decorate your package.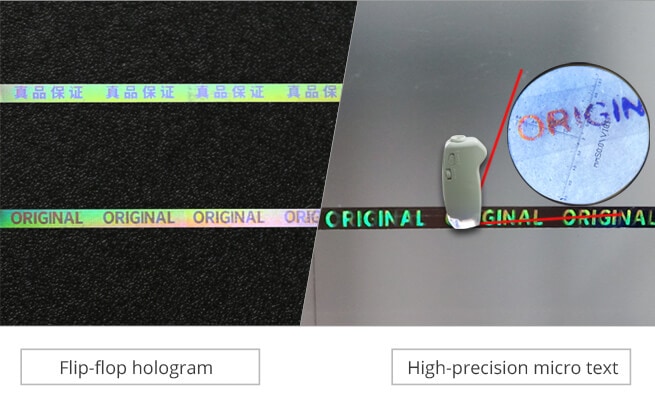 Hologram Tear Tape Price?
If you are interested in our hologram tear tapes, please kindly inform us of more details is as follows.
| | | | | |
| --- | --- | --- | --- | --- |
| Material | Specification | Core Size | Quantity | Artwork |
| Yes | Yes | Yes | Yes | Yes |