The hologram tamper proof sticker is an anti-counterfeiting method to prevent the label from being misappropriated and combat counterfeit products.
Tamper evident security labels are mainly divided into three parts: base film layer, release layer, micro structure later, adhesive and release paper layer. Tamper evident, as its name implies, realizes the anti-counterfeiting effect by uncovering the surface layer. It has strong anti-counterfeiting properties, characteristics that are difficult to imitate, non-transferable performance, and eliminates counterfeiting.
The production of tamper evident hologram is a material-based anti-counterfeiting method. If the label is uncovered, the pre-set text or pattern will be separated from the surface material, such as: "VOID", "unsealed", "opened" And other words, and stay on the object to be posted, so as to achieve the purpose of fidelity, and provide the function of automatic inspection.
What are the tamper evident hologram stickers characteristics
1. Using destructible materials.
It is fragile to uncover after pasting to protect the product brand from being tampered with and forged.
Tamper proof holograms are a material-based anti-counterfeiting method of uncovering and leaving the bottom. The uncovering VOID anti-counterfeiting material (also called anti-counterfeiting font) is a revealing self-adhesive anti-counterfeiting material whose base material is mostly plastic film.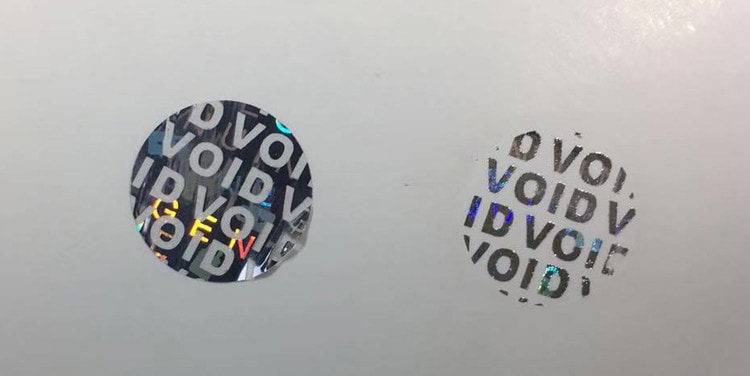 Uncovering the bottom tamper proof security labels includes uncovering the hollow and leaving text and patterns; when uncovering, it is layered and the content hidden between the layers is displayed, which can prevent unauthorized uncovering, moving, and reposting.
2. A variety of material options
Multi-tamper evident designs are available, the destructible patterns can be "VOID", "Honeycomb", "Dots", "Security cutting", Further, it can also be in customized design.
3. High security
The tamper-evident label has strong anti-counterfeiting properties, features that are difficult to imitate, non-transferable performance, and eliminates fraud
3. Gorgeous and colorful surface, support customization
The surface layer of the security tamper proof label can be customized according to customer requirements with holographic effects such as personalized patterns and company names to further enhance the anti-counterfeiting effect, increase the cost of imitation, and prevent counterfeiting.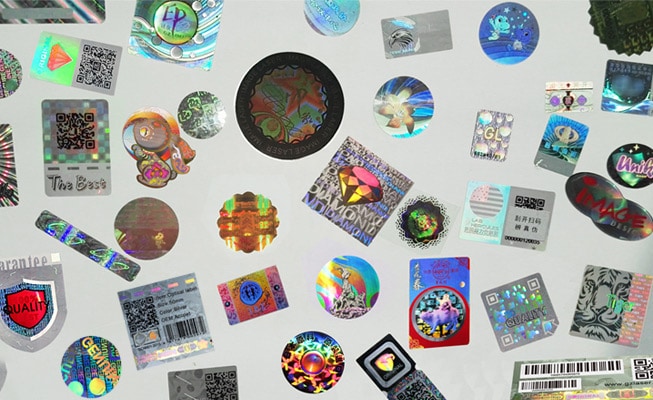 4. Application
First, it can be used to make sealing labels. It is widely used in medical, food, electronic goods, logistics, aviation, express delivery, documents, letters, warehousing, and other fields. Attach the tamper proof seals sticker to the sealing part of the object to prevent the object from being dismantled and embezzled without permission.
Second, it is possible to make tamper-evident labels. It is widely used in IT, electronics, electrical appliances, medicine, the chemical industry, shopping malls, and other fields, to put anti-counterfeiting labels on commodities to avoid labels and labels from being lifted before use.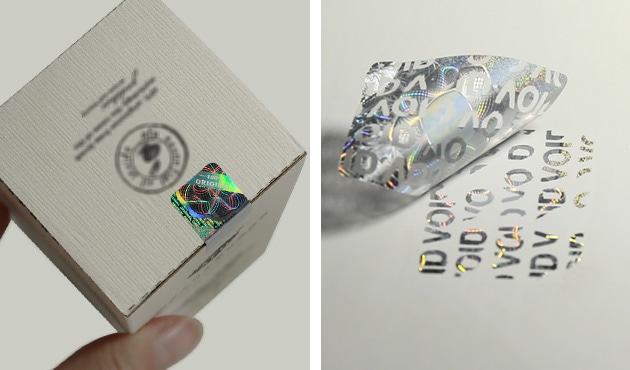 Before the products leave the factory, the company puts quality assurance labels on self-produced products. It is a kind of sign that promises to customers the quality of its products and is to improve product image, providing quality assurance, and enhancing users' confidence in the product is a sign.
For Further Reading