Why do we need to customize the hologram sticker?
Security hologram stickers are a multifunctional product that has the feature of anti-counterfeiting, traceability, anti-channel conflict management. They have become vital to many industries to prove authenticity and for tamper resistance.
To add a layer of security to better protect brands and products, more customers tend to choose these holographic stickers with custom elements. The high-security and difficult to imitate features of customized anti-counterfeiting labels make it popular with many customers.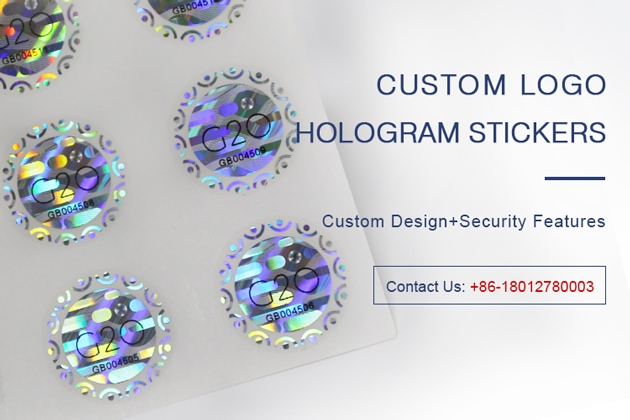 The feature of Anti-counterfeit Hologram Stickers
1, Unique identification
The identification features of anti-counterfeiting technology products are unique and non-transferable, that is to say, the anti-counterfeit hologram sticker on each product is unique, and only can be used once and cannot be copied.
2, Not easy to imitate
Customized anti-counterfeit stickers have high-tech and are not easy to imitate. And it can be applied to all kinds of plastics, glass, paper, and other materials, and it can be damaged once someone tries to remove it from one place to the other.
3, Customized information
Some customized elements such as corporate logo, company website, company products can be integrated into the design of holographic stickers to improve brand awareness.
4, Easy to identify
Our holographic stickers can be combined with QR codes well to directly authenticate products through mobile phone scanning, quickly trace related information.
Tips for making hologram stickers
First, Quality is very important when making hologram stickers. Otherwise, it will cause the label information to be unclear, the label is not sticky enough to be easy to lift up.
Second, Some QR code authentication labels, need to be ensure after the label is delivered to the customer, it is necessary to determine whether the label verification query page is ok. Ensuring after-sale service.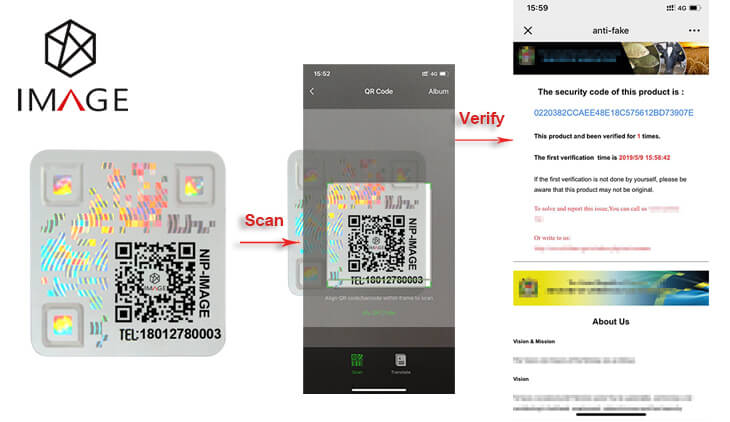 Third, For customized labels requirements, customers need to provide relevant enterprise qualification certificates, such as business licenses, organization code certificates, etc., which are all required.
Forth, Hologram stickers signify a company's brand. Therefore, you had better choose a reliable and licensed company. Only formal enterprises can better protect the rights and interests of enterprises and prevent products from being imitated.
How to choose appropriate Security Solutions for packaging products
At present, there are many types of holographic stickers on the market, the security technology is also different for unique requirements. In the face of these dazzling anti-counterfeiting materials, technology, processing, how to choose appropriate security solutions for your own packaging products? Here are some suggestions.
1) Tobacco, alcohol, and healthcare products, you can choose tamper-proof feature hologram stickers, which provide a visible marked evidence of tampering if removal of labels is attempted. They are difficult to imitate and easy to identify.
2) Digital electronic products, the types of labels available for digital electronic products are relatively wide, such as optical QR code labels and 3d hologram stickers. There are a few tips here, if affixing the label on the electronic product itself, pay attention to the high-temperature resistance of labels because digital electronic products will generate a certain amount of heat during use.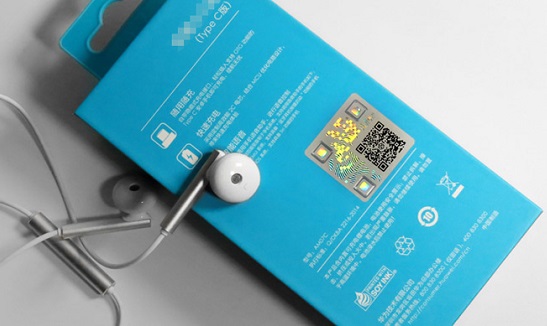 3) Personal care products, the choice of anti-counterfeiting labels for daily chemical products is relatively wide, such as digital anti-counterfeiting labels, QR code anti-counterfeiting labels, and optical anti-counterfeiting labels.
Digital QR code anti-counterfeiting labels can facilitate consumers to check the authenticity of products by phone or WeChat in real-time. Optical anti-counterfeiting labels are more intuitively recognizable and each has its own advantages. Customers can choose according to their own product needs.
Suzhou Image Laser would like to remind you that the holographic stickers made by the firm should synchronize with your products and also match the packaging. Otherwise, it will affect the overall visual effect of the product, thereby affecting product sales. Therefore, choosing the right anti-counterfeiting label is still very important for the product.
For Further Reading