For security functions and decorative purposes, the application of holograms to cards has become more and more popular. For example, nation ID cards, driver's licenses, and important credentials need an anti-counterfeiting shield, some membership cards, child play cards need shinning and attractive decorations, just for fun and cool.
You may ask how to print a hologram on the card? Here, we will briefly introduce the topic. In fact, it is not through printing, but a kind of micro-structure texture that can achieve dynamic colors, 3D, rotation, and colorful effects through various light diffraction and scattering.
Do you know? There is no ID card printer on the market that can print holograms. Because holograms are three-dimensional (3D) images, and all card printers can only print two-dimensional (2D) images.
Overall, the hologram image is totally different manufacturing and processing methods from the printing colors we see which are with ink, pigments, coating, etc. And it can show high resolution that is difficult to achieve by ordinary printing.
Five Solutions that Applied Holograms to Cards
Suzhou Image Laser provides a complete solution for applying holographic effects to the standard ISO CR80 card. Mainly from the following five types, they are
They can meet different application, quantity, security level, and card finishing processing.
The Principle of Integrate a Hologram to the Card
To integrate holograms to cards is with technical difficulty and needs professional technicians to operate. First, we make an optical hologram mould, make the microstructures on the mould. Then to make the same effect on cards, we need to transfer this microstructure to cards by heating and pressing.
Conventional printing, in some way, similar to hologram embossing which is the microstructure transfer processing. To make the optical hologram mould, there are various production processing from design, dot matrix to electroforming/vacuum plating, etc.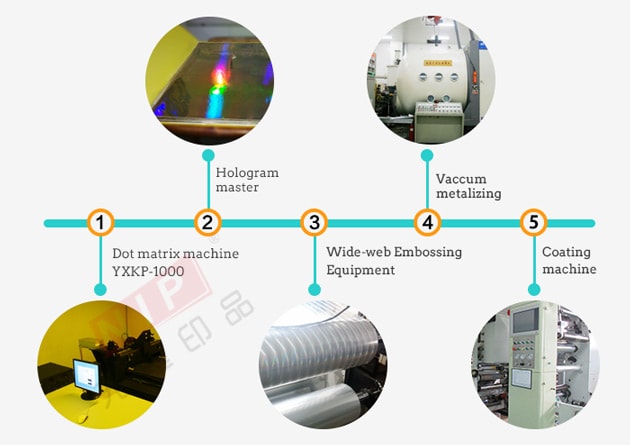 After that, to transfer the hologram microstructure to cards, there are more complicated productions. Need a special production facility and well-trained technician. We will discuss this topic further in the next chapter.
As a manufacturer of security hologram products for about 20 years, Suzhou Image Laser focus on technology R&D, processing and finishing improvement, to present better security solutions to our clients, for both government agency and commercial brands. Especially for governmental projects like nation ID cards, driver licenses, important credentials, notary documents, etc.