Why Print Your Own Hologram Stickers
As the demand for personalization grows, more and more brand owners and manufacturers want to integrate their brand logos and optical holographic stickers together for brand marketing and brand value creation.
Considering that the customized hologram has high requirements on the MOQ, the cost is also somewhat high. Some initial projects are difficult to realize personalize in this way.
Suzhou Image Laser has developed a series of generic hologram textures, which are made of polyester materials, have excellent printability, and can easily print the required information on texture patterns. Combined with the anti-counterfeiting technologies, they are not easy to imitate, and the printing process will not affect the performance of the holographic effect.
Moreover, these generic hologram textures are no mould cost, require a minimum order quantity, and can be used in conjunction with custom printing to become your own unique label at an affordable price.
How to Print Your Own Holographic Stickers
These stickers accept most flexo inks (UV and water-based), and the printed information is diverse, it can be your brand logo, QR code, bar code, serial code, etc.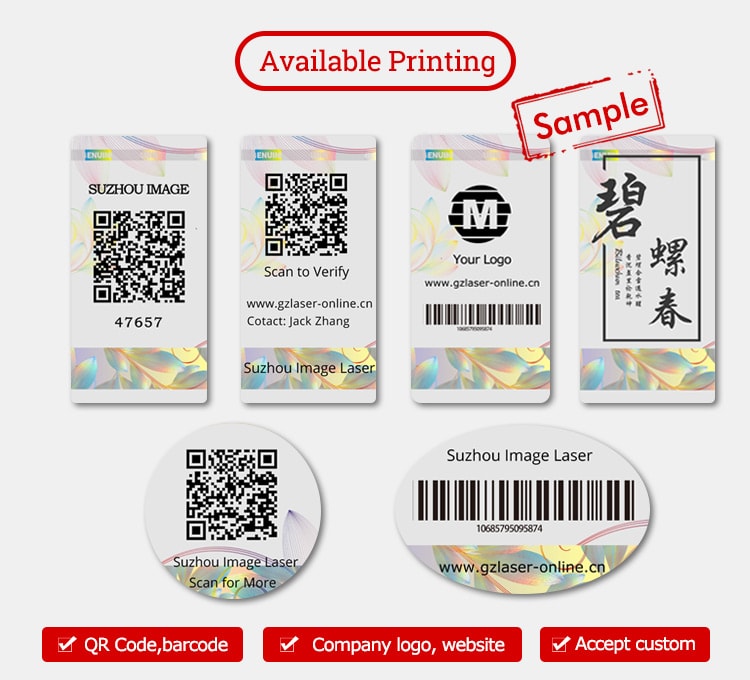 Suzhou Image Laser provides three solutions to print the message you want on the holographic sticker. They are thermal transfer ribbon (TTR), UV inkjet, and laser numbering.
The three ways can perfectly print your own holographic stickers and are widely appreciated by the clients for their durability, excellent adhesiveness, and smooth finish. All these three solutions have their advantages and disadvantages, used for different applications and functions.
Thermal transfer ribbon(TTR) printing
TTR printing is usually for small batch production, probably less than 1 million, and its scratch resistance is good.
UV inkjet printing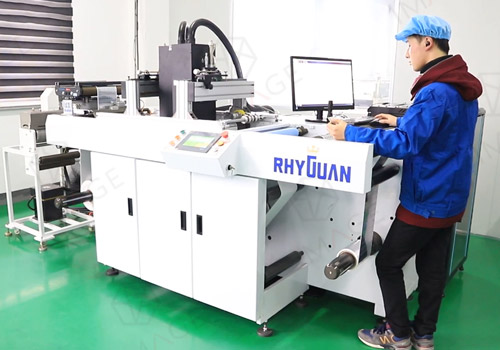 UV inkjet printing is more suitable for mass production, like millions and more.
Laser numbering
Laser numbering is for labels that require higher scratch-resistant and tamper-proof functions.
One more important for numbering is scratch-resistant, among the above three. Laser number is the best. UV inkjet is the last, but we usually make a varnish coating or clear film lamination over it to strengthen the anti-scratch function.
To help you better understand, here is the form to compare the different features of the three types of numbering methods.
| | | | | | | | |
| --- | --- | --- | --- | --- | --- | --- | --- |
| Printing type | Machine cost | Workshop space | Production efficiency | Operator requirement | Scratch-resistant | Energy consumption | Production cost |
| TTR | Low | Low | Low | Medium | Medium | Low | Medium |
| UV inkjet | Medium | Medium | High | Medium | Low | Medium | Medium |
| Laser numbering | High | High | Very Low | Medium | High | Very high | High |
(Note: Here, Very low, Low, Medium, High and very high are relative, and compared among the mentioned three methods only)
We will choose the suitable printing methods for your hologram stickers, considering both the quality and cost. If you still have doubts about it, please visit our previous articles, they will be helpful for you.