Counterfeit market activities have developed rapidly around the world, seriously affecting the sales of leading global apparel (textile) brands. The optical security thread produced by Suzhou Image Laser Company is one of the most effective means to combat counterfeit clothing products.
At present, some domestic and foreign textile clothing brands have begun to adopt this high-end anti-counterfeiting technology and means to protect their brand safety. Some domestic brands such as BOSIDENG, Mercury Home Textiles, foreign brands such as GAP, ZARA, NE, and so on.
Product Parameter of Hologram Security Thread
Feature
The hologram security thread is linear, non-adhesive, and washable. The width is less than 1mm contains micron-level micro text, which appears rainbow-colored under a specific light and integrates beautiful and security anti-counterfeiting.
Application
It can be used as woven tape, woven label, woven into textile products. Applicable to all kinds of clothing, shoes, and hats woven labels, can be used as a security identification of brand products.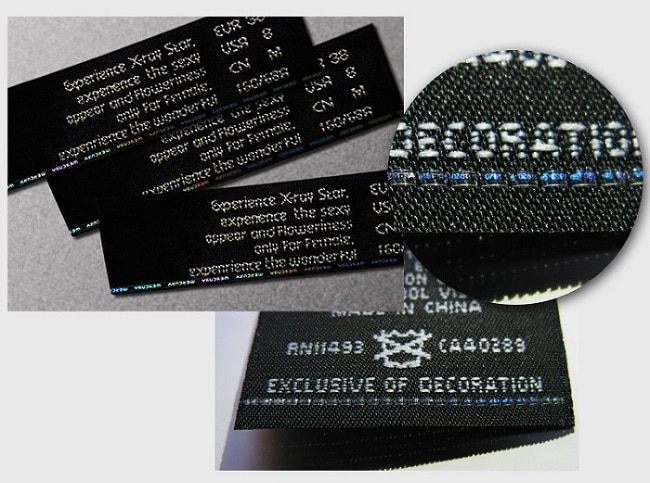 Specification
| | | | | |
| --- | --- | --- | --- | --- |
| Variety | Material | Width | Thickness | Packing specification |
| patterns register | P ET | 0.7-1mm | 36 um | 0.7-1mm 36 um 1000m/roll 16roll/carton |
| patterns random | P ET | 0.7-1mm | 36 um | 0.7-1mm 36 um 1000m/roll 16roll/carton |
Other specifications can be customized according to customer requirements
How to Use Security Thread to Protect Clothing Brand.
We know that there are woven labels on apparel textile products, woven labels are also called cloth labels, and the materials include non-woven fabrics, polyester, and cotton. The woven label security thread is generally used in polyester woven labels and cotton woven labels because the hologram thread is woven into the polyester thread and cotton thread during the production process of the woven label.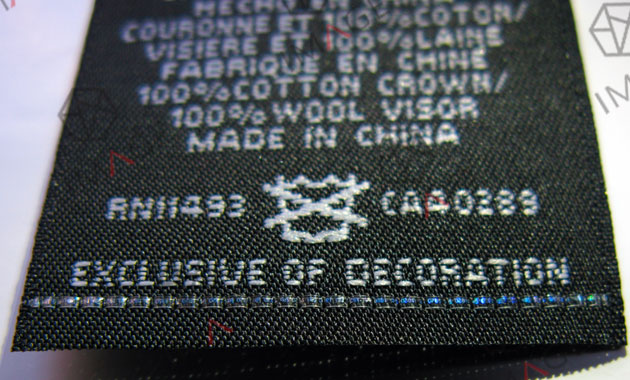 The security thread is made into a weft thread and is knitted into the woven label to create a safety barrier to protect brand products. Anti-counterfeiting thread is one of the most effective way for clothing companies, footwear companies, or daily textile companies to protect brands.
Upgraded Product, 0.7mm High Precision Security Thread
The 0.7mm wide micro text security thread produced by Suzhou Image Laser is an upgraded product of optical thread, which is specially used for textile tape and woven label. It is manufactured through a special process with a line width of 0.7mm and can carry custom text and graphics to achieve the dual functions of brand promotion and safety protection.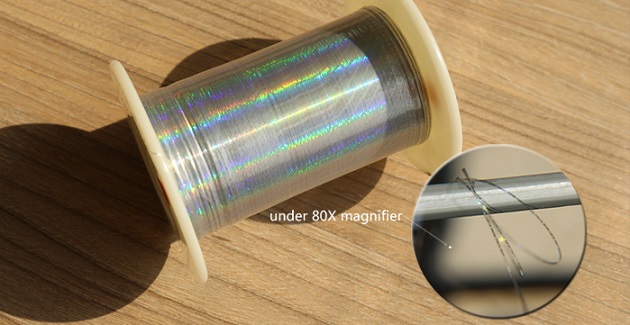 Of course, some customers also require 0.8mm and 1mm line widths. Maybe you will ask why 0.7mm is called high precision? Because the width of this type of product carries the textual information of the product. The wider the thread, the easier it is to do, the more difficult it is to do otherwise.
The narrower the width, the higher the requirements for materials, design, and slitting technology. The thread also contains very fine micro-nano optical anti-counterfeiting information, so it is called a high-precision security thread.
Besides, Suzhou Image also produces thread wider than 1mm, we called security tear tape, which is mainly used for opening and unsealing products with transparent film packaging such as tobacco, medicine, cosmetics, tea, poker, chewing gum, and so on.
If you have a need for the security solution of clothing brands, please contact us.