Self Seal Laminating Pouches
Material: 10 mil clear PET
Specification: 175*225mm
Usage: Cards & Certificates
Feature: Anti-counterfeit
MOQ: 5000 pcs
Sample: Available
OEM: Accept
Certificate: IHMA, ISO9001, ISO27001
Hologram self seal laminating pouches can be used to laminate ids, parking permits passes, and certificates to protect personal data from tampering and counterfeiting. There is a hologram image on the front side of the sealed documents, it's very glossy and sparkle.

The thickness of the laminating pouch on this page is 10 mil. It's available to customize in different thicknesses, even graphics and sizes to meet each customer's requirements.
Material
Polyester
Thickness
10 mil (254 micron)
Color
Transparent
Size
175*225mm
Pattern
Customize
MOQ
5,000pcs
Feature
Anti-tampering
Application
– Event tickets
– Large meeting places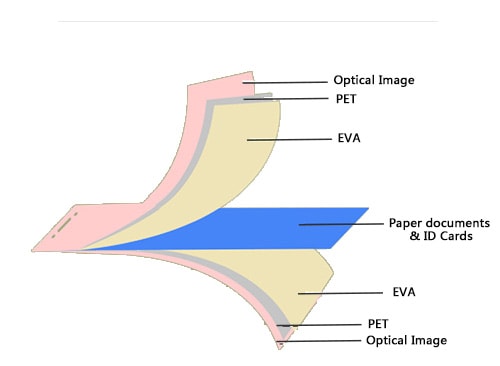 Paper documents and event ids are inserted in the center of hologram self laminating pouches and seal which can protect what you want to be more secure. Following are a few features they have:
Attractive color combinations
Accept the customized laminate solution
After laminated, the certificate is rigid, not easy to crack.
Has the advantages of moisture resistance, anti-tampering, and fading resistance.
The pouch and ids are sealed by the laminator machine, and the operation is simple.
How to Laminate via 10 mil Laminator Machine
First, place the cards and documents in the center of two-layer 10 mil laminating pouches. Then use a 10 mil laminator machine to self-seal the pouch. Below is an operation video.
The hologram self seal laminating pouch produced by our company is commonly used to laminate big size hanging type badge, mostly for special events, driving license and concert venues.
At present, we have cooperated with many government projects, including the 2008 Bejing Olympic Games, 2018 Pyeongchang Olympic Games, Buenos Aires 2018 Youth Olympic Games, National IDs & Driving License.