3D Hologram Security Label
Color: Silver
Size: 23*50mm
MOQ: 50,000 pcs
Sample: Available
Production time: 7 working days
Certificate: IHMA, ISO9001:2015
The 3D hologram security label is one of our regular textures. It is made of void tamper-resistant material and supports printability. Users can print unique logos, texts, scratch QR codes, barcodes, serial numbers, etc. on this sticker for personalization design and provide higher security protection.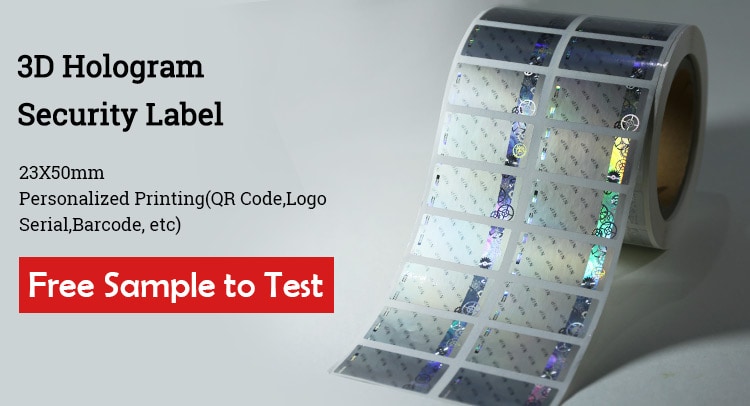 Our technicians use 2D/3D hologram technology for the "NIP" characters in the background of the hologram printable security label, which seems to have a sense of the depth of field. If it is affixed to your brand packaging, it will increase the brand value and make your product more attractive.
Parameter of 3D Hologram Security Label
| | |
| --- | --- |
| Color | Silver |
| Sticker Shape | Rectangular |
| Material | 30micron Polyester |
| Specification | 23*50mm |
| Stock Image | Gear |
| Printing information | QR code/serial/barcode/logo |
| Code type | TTR/UV/Laser numbering |
| Security Feature | In stock, anti-fake, aesthetic |
| Sample | Delivered in the same day |
| Selling Unit | By roll |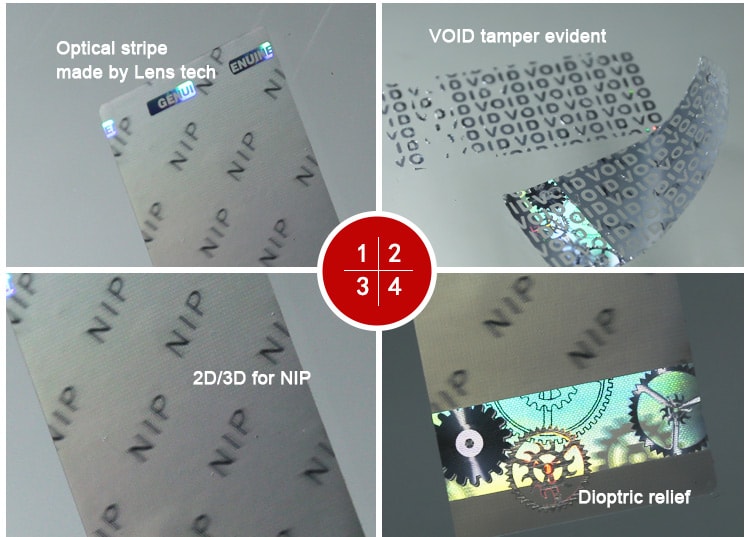 Features of Hologram Security Label
This hologram security label designed with many optical security features, including colorful optical lens, black and white background, 2D/3D for NIP, dipodic relief, hidden text, security thread (made by micro text). Among them, micro text/hidden text needs to use tools to observe the hidden information, so it offers a higher level of anti-fake performance.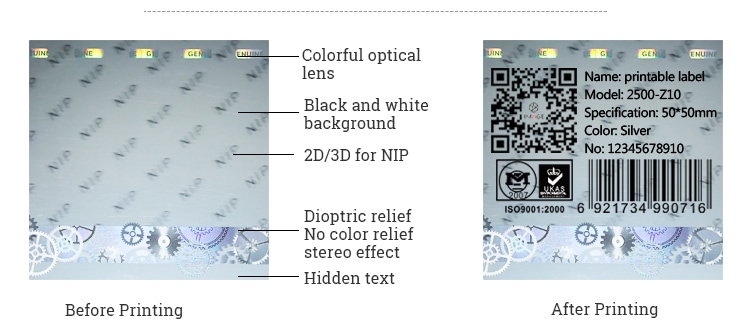 The void tamper-resistant material makes it non-removable once pasted to a fixed position, otherwise, the security label will be self-destructive and leaves proof of tampering.
Since this gear pattern hologram security label comes from our stock textures, it means this sticker is also can be sold to other users and only provides limited anti-counterfeiting for products.
However, you can print customized information on it to make the label only available to you, and in terms of price, it is more cost-effective than a 100% customized hologram sticker.
You can print your information on the 3D hologram security label and then paste it on various packaging items for promotion and anti-counterfeiting. Here are some industries that have applied these stickers.
Pharmaceutical Industry
Electronic appliance
Mobile phone accessories
Kids toys
Cosmetic and Personal Care Products
Garment Industry
Vehicle documents