Circle GENUINE SECURE Hologram Sticker
Color: Silver
Size: 30mm
MOQ: 50,000 pcs
Sample: Available
OEM: Accept
Production time: 7 working days
Certificate: IHMA, ISO9001:2015
Suzhou image laser offers generic circle hologram stickers with the words "SECURE GENUINE" on the background. When you move the label around, you can observe the two graphics " GENUINE SECURE " and "LOCK " pattern appear alternately at different angles, which we all flip-flop.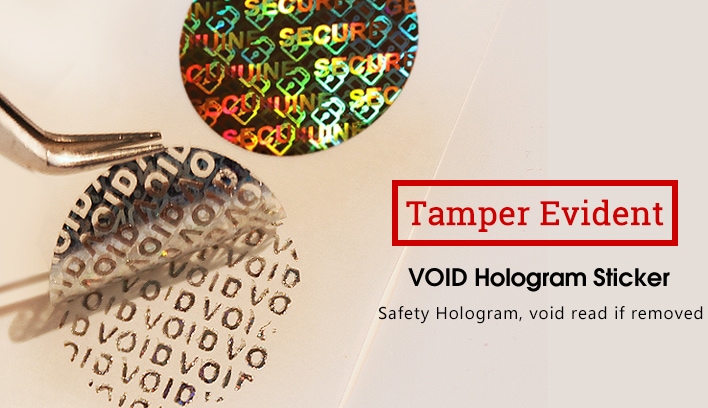 If someone attempts to peel it off, the label will provide obvious evidence of tampering, and the residue of VOID will appear where it was pasted.
| | |
| --- | --- |
| Color | Silver |
| Sticker Shape | Circle |
| Material | 30 micron Polyester |
| Specification | 30mm dia |
| Stock Image | GENUINE SECURE |
| Imprint | No stock imprint, Available to imprint with texts, logos and serials on hologram sticker |
| Security Feature | Void Tamper Evident Rainbow color |
| Sample | Delivered in the same day |
| Selling Unit | Sheet, 16 pieces per sheet |
Our company can manufacture a variety of customized specifications of a secure genuine holographic sticker, from the shape, size, color to the supply form.
This hologram sticker with the GENUINE SECURE pattern is produced by advanced lithography equipment, which can etch high-resolution micro-nano structure graphics, which is difficult to achieve in ordinary printing. Therefore, our holographic stickers cannot be scanned or photocopied, which is an effective method to prevent counterfeiting.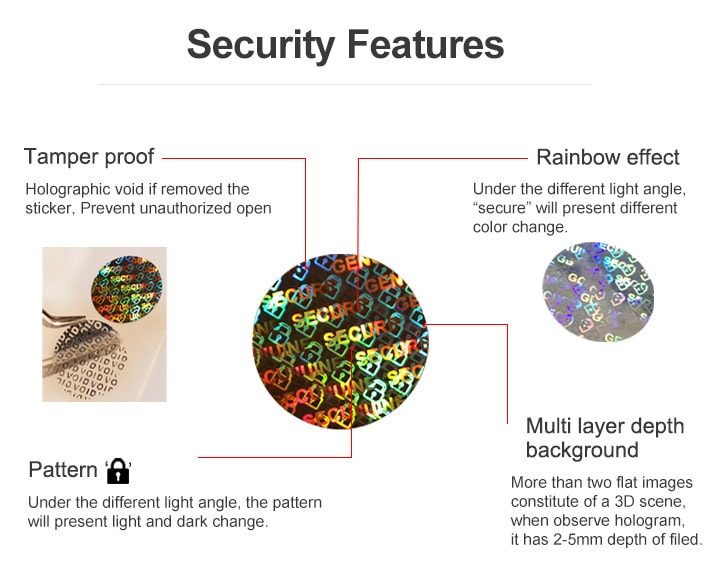 Due to the generic texture, it also can be sold to others, only provides the most basic anti-counterfeit function. To enhance security, we have a special TTR printer that can print some serial numbers, texts, and logos on holographic stickers with a secure genuine background to increase security and tracking purposes. For a higher level of security needs, we recommend using our 100% customized hologram stickers.
This circle shape genuine secure hologram sticker is tamper-proof, it's designed to be destructible if removed, thereby become a great method to fight against tampering and prevent unauthorized transfer.
This circular hologram sticker is applicable to these products that require an appropriate level of security and pay much attention to an aesthetic appearance. They can be affixed to varieties of packaging materials, such as paper, plastic, glass, and so on.