Reel Hologram Strip
Material: 20um PET
Color: Gold
Specification: 12mm*500m/roll
Usage: Paper sticker
Feature: Anti-counterfeit
OEM: Accept
Certificate: IHMA, ISO9001, ISO27001
This hologram strip in the form of a reel is designed to work well with the paper sticker. Customers can print personalized information on it, including QR codes, barcodes, and logos to enhance security.

Parameter of Hologram Strip
Material
20 micron Polyester
Color
Gold
Specification
12mm*500m/roll
Pattern
Your logo
Feature
1) High security
2) QR Code Printing
3) Can't remove after stamping
Selling Unit
Supplied in a reel form
Sample
Delivered in the same day
Certificate
IHMA, ISO9001, ISO14001
Industry Application
Paper label, food, pharmacy, cosmetic, etc packaging, PVC Cards, certificate, envelope, and so on
This hologram strip uses many overt and covert optical technology, such as optical lens, optical thread, micro text, etc. It can be accurately hot stamped onto the paper stickers to protect product security.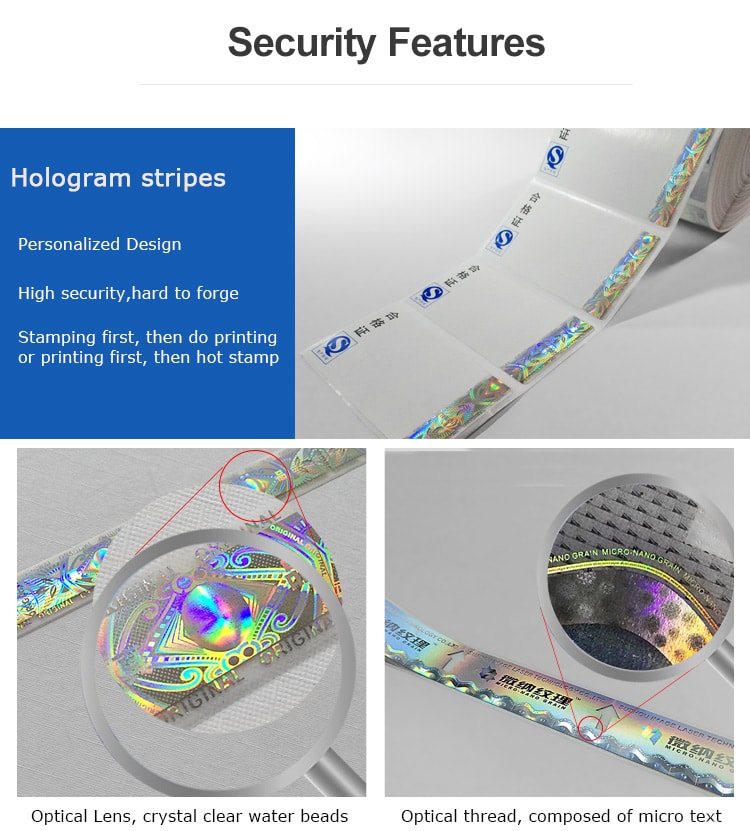 Our reel form hologram strips can be hot stamped on products of various materials, such as printed paper stickers, coupons, PVC cards, confidential documents, blister packaging items, such as chewing gum, batteries, medicines, etc.