Hologram Warranty Void Sticker
Color: Silver
Size: 50*50mm
MOQ: 50,000 pcs
Sample: Available
Production time: 7 working days
Certificate: IHMA, ISO9001:2015
Our company offers warranty void stickers with hologram images, which are usually used for packaging seals to prevent unauthorized tampering and counterfeiting. If the seal is broken, there will be void residues on the original position. This also implies that the seal has been opened.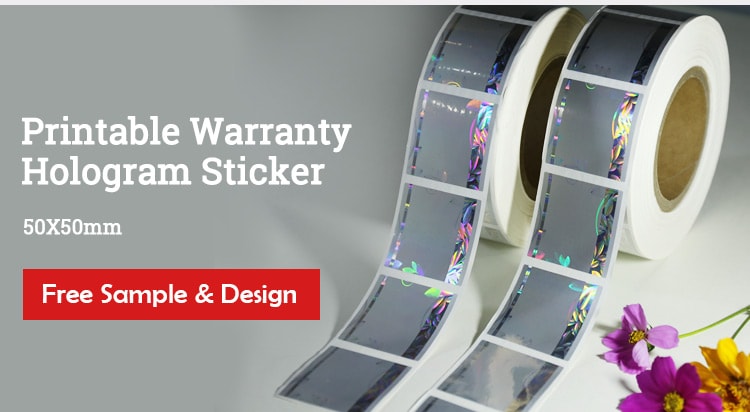 This type of hologram warranty stickers will provide obvious evidence of tampering. At the same time, the logo, serial number, verification QR code, and barcode can be printed on the label as an additional anti-counterfeiting feature.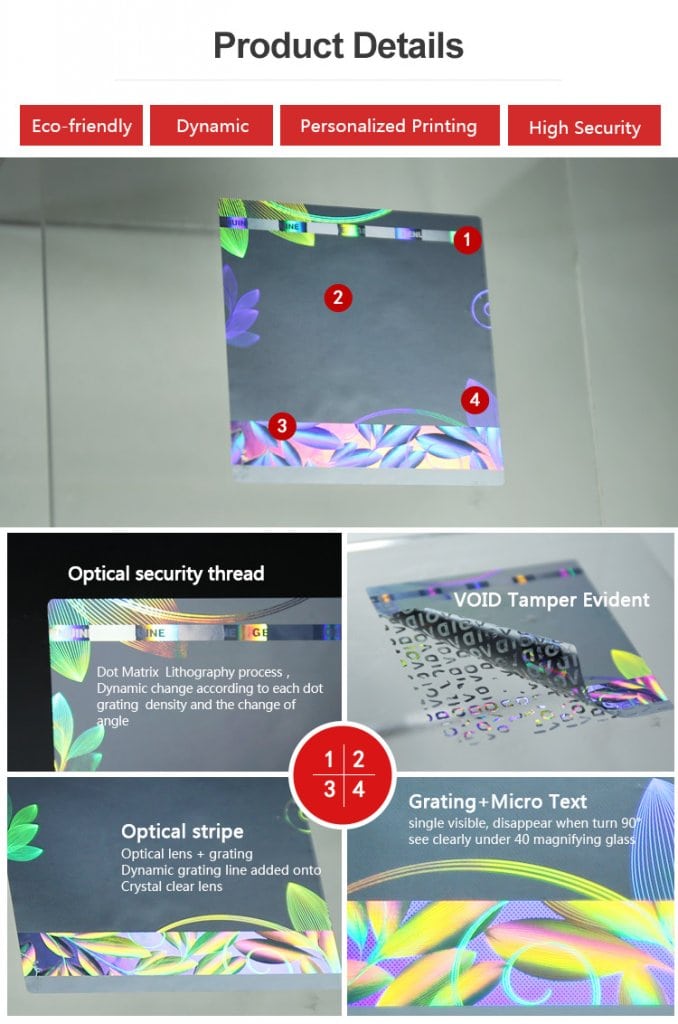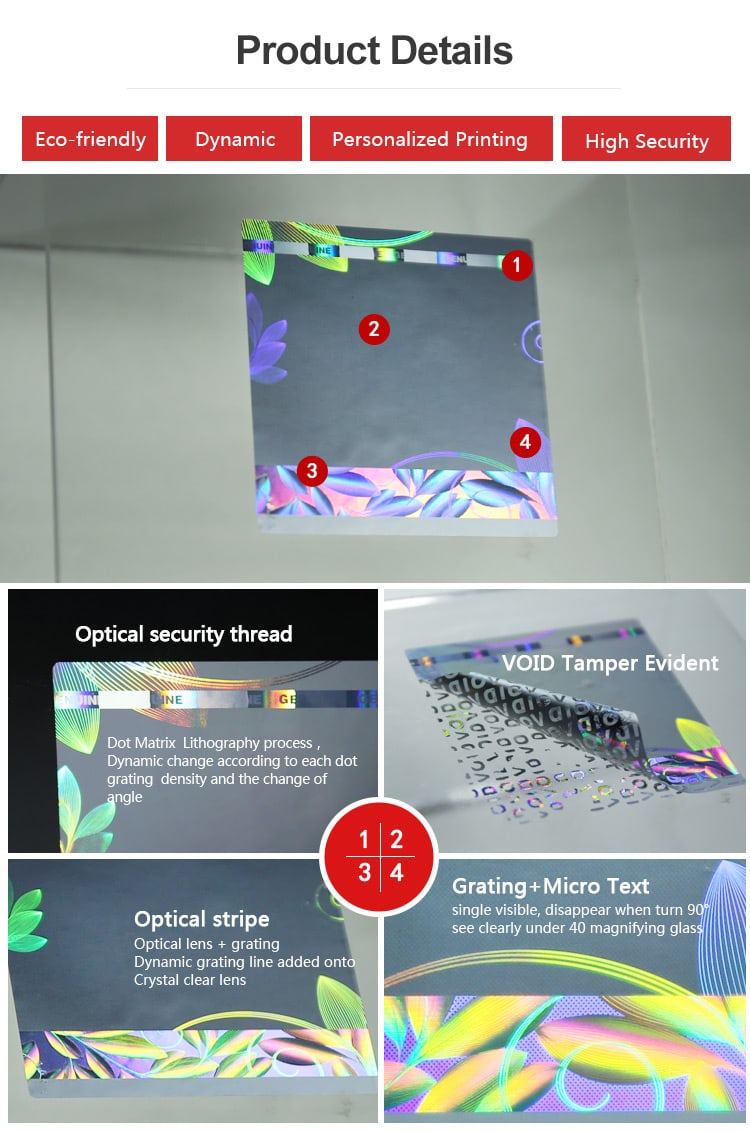 Parameter of Hologram Warranty Sticker
| | |
| --- | --- |
| Color | Silver |
| Sticker Shape | Square |
| Material | 30micron Polyester |
| Specification | 50*50mm |
| Stock Image | Lens flower |
| Printing information | QR code/serial/barcode/logo |
| Code type | TTR/UV/Laser numbering |
| Security Feature | In stock, anti-fake, aesthetic |
| Sample | Delivered in the same day |
| Selling Unit | By roll |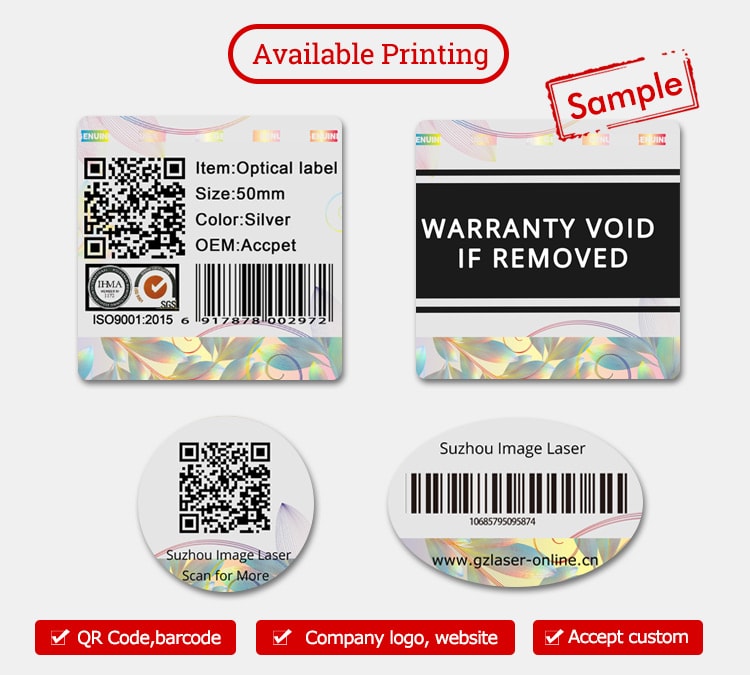 Features of Warranty Void Sticker
This hologram warranty void sticker is our generic design, and can also be sold to other users, providing proper security protection only for brand packaging. But it is printable and can be used to print the required information to enhance security.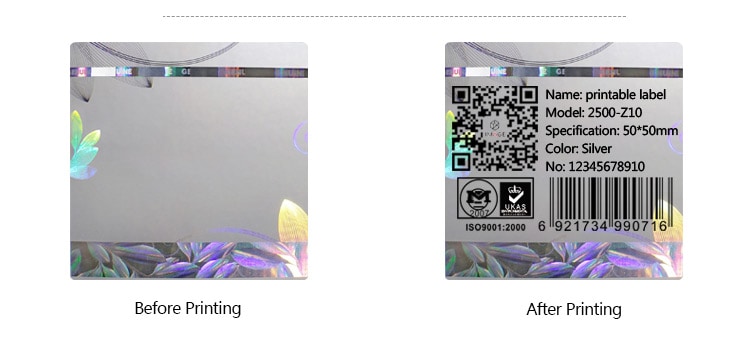 These anti-counterfeit warranty stickers have obvious tamper-proof characteristics. If the labels are removed or tampered with from the original substrate, these labels will leave a "VOID" residue, clearly indicating that someone removes the seal.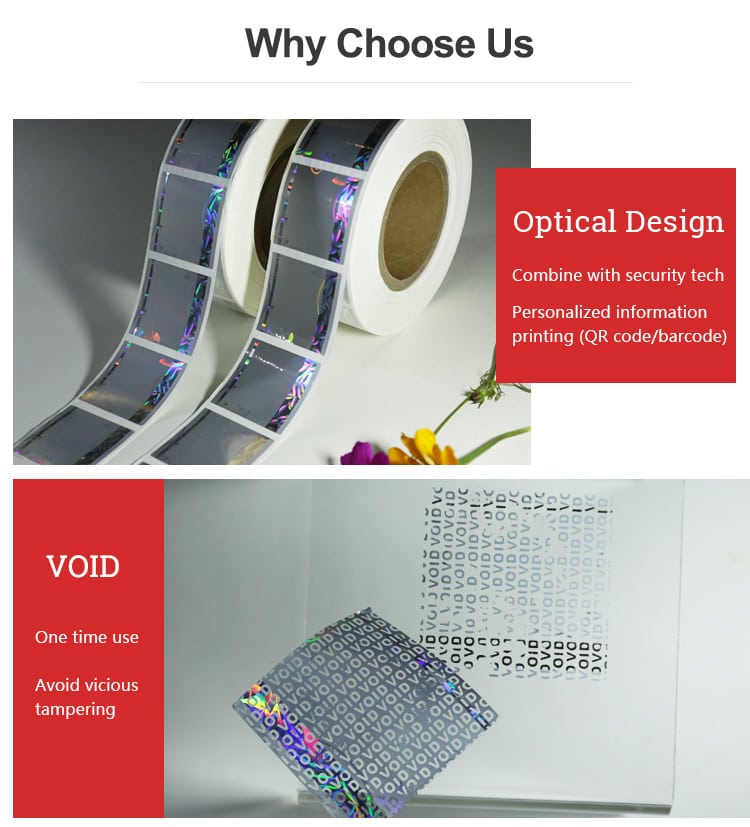 Applications of Hologram Warranty Void Label
The hologram warranty void label is widely used in various packaging products to achieve anti-fake and aesthetic purposes. The following are some industries that we have found already using this sticker, including the pharmaceutical industry, garment, electronic accessories, tobacco industry, cosmetic and personal care products, automotive spare parts, and sensitive documents.