Holographic Security Barcode Label
Color: Silver
Size: 50mm square
MOQ: 50,000 pcs
Sample: Available
OEM: Accept
Production time: 7 working days
Certificate: IHMA, ISO9001:2015
Our company offers holographic barcode labels at competitive prices, which can be applied to various industries for safety and promotional purposes. The barcode is printed on the generic holographic label image to keep trace of products and protect its security. In addition to the bar code, there are some QR codes, serial numbers and logos can also be printed on the label to achieve personalization.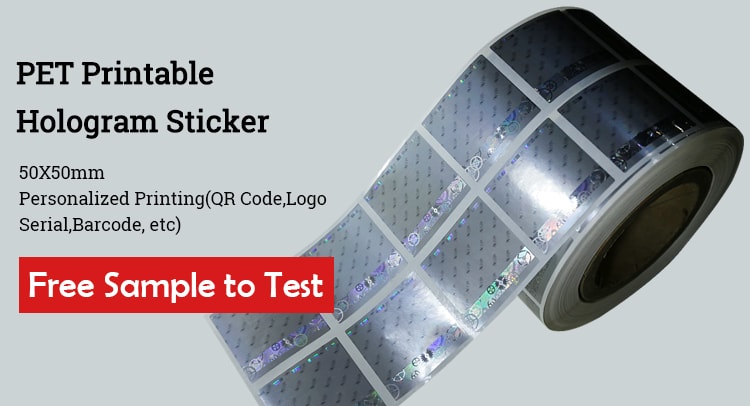 These security barcode labels are made by a professional holographic master making system. They contain many optical technologies and combine custom printing to make them safe enough to resist general forgery.
If your project relatively emphasizes the shiny appearance rather than the anti-counterfeiting function, then this label is very suitable for you, otherwise, it is recommended that you use our custom logo holographic sticker.
Parameter of Holographic Barcode Label
Color
Silver
Sticker Shape
Square
Material
30micron Polyester
Specification
50mm square
Stock Image
Petal
Printing Information
QR code/serial/random number/verify code/
bar code
Code type
TTR/UV/Laser numbering
Security Feature
In stock, accept custom printing, anti-counterfeit & aesthetic appearance

Sample
Delivered in the same day
Selling Unit
By roll
Features of 2D/3D Security Barcode Label
This 2D/3D holographic label designed with all kinds of overt and covert security features. They can be printed barcode, QR code, serial number, and other what you want to print it, like company information, logo, and so on.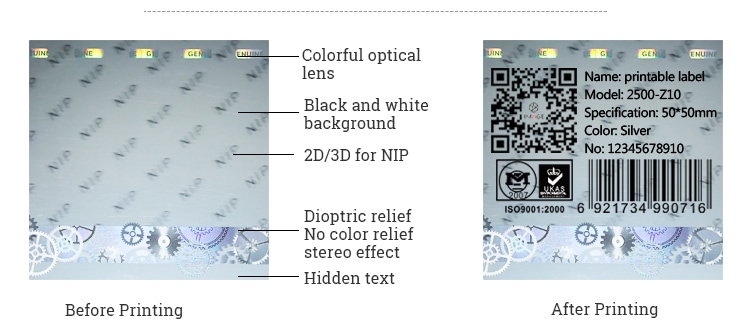 One level: Overt—- colorful optical lens, black and white background, 2D/3D for NIP, dipodic relief no color relief stereo effect
Second level: Covert—- Hidden text
Covert features – security thread (made by micro text) and hidden text, compared with overt features, micro text/hidden text needs to use tools to observe the hidden information, so it offers a higher level of anti-fake performance.
Applications of Holographic Security Barcode Label
Holographic security barcode labels can be used in a variety of industries for security and aesthetic purposes. They are easy to use, have self-adhesiveness and obvious tamper evidence, and can be pasted on various substrates to help verify and trace the traces of different items.