Material: 50 micron PVC
Color: Transparent
Specification: 290*470mm
Usage: ID cards and driving license
Feature: Anti-counterfeit & Anti-scratch
MOQ: 2,000 sheets
OEM: Accept
Certificate: IHMA, ISO9001, ISO27001
The id card embedded laminate overlay is compatible with various card substrates, including PVC, PET, PC, etc. It can be embedded in the card substrate to form protection to prevent information from being counterfeited. Currently mainly used for passports, ID cards, bank cards, and driving license projects.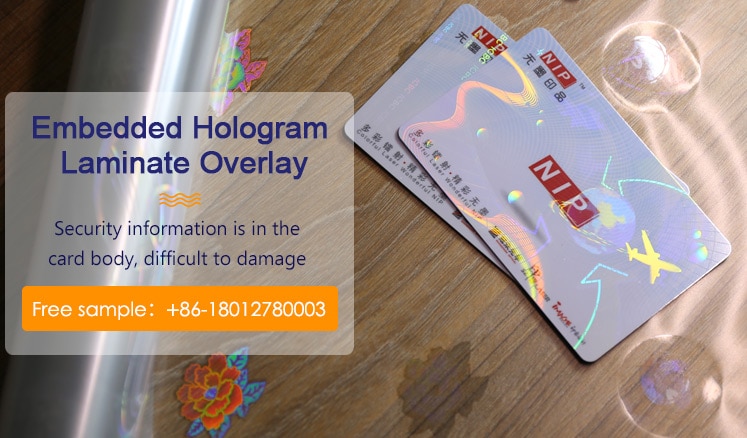 Card manufacturers use this id card hologram laminate overlay for mass production, multi-row layout, laminate the security optical film together with multi-row card and chip, then pre-printing, finally cut into single card and ship to the corresponding department to print personalized information.
Material
20 micron PET
Color
Transparent
Size
290*470mm
Pattern
Your logo
Feature
Anti-tampering
Equipment
Special lamination machine
MOQ
2,000 sheets
(32 cards per sheet)
Application
– Driving license
– ID cards

You can order id card holographic laminate overlays with your customized logo or design, By using large-scale laminating equipment dedicated to the card manufacturer to laminate the card body and chip together, the micro-nano optical security information is finally embedded in the card body, making it difficult to damage and easy to mass-produce.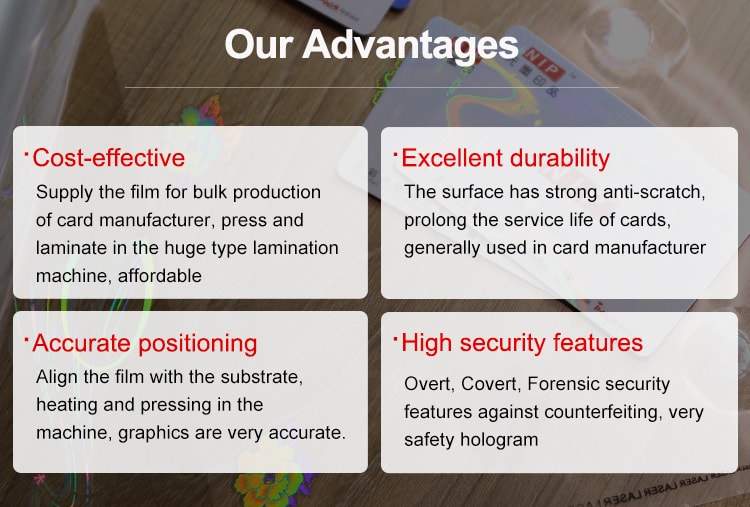 Six simple steps can help you learn how to use id card embedded holographic lamination overlay to protect your cards.