Optical Printable Hologram Sticker
Color: Silver
Size: 50mm square
MOQ: 50,000 pcs
Sample: Available
OEM: Accept
Production time: 7 working days
Certificate: IHMA, ISO9001:2015
This optical printable hologram sticker with dynamic flower graphic is our stock version. It can be shipped immediately and has a low MOQ and affordable price.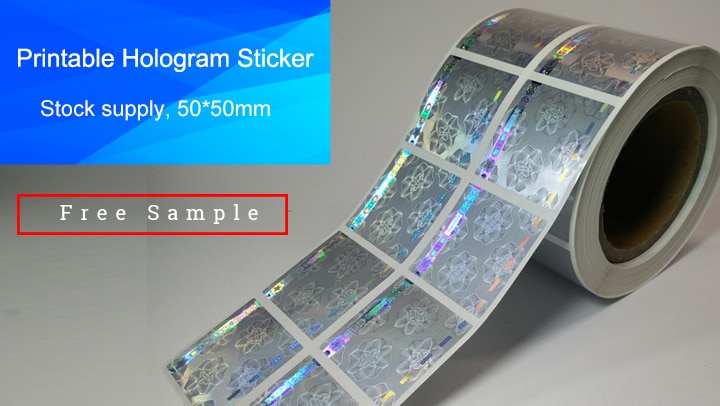 Because of stock designs, it only offers limited security performance to products. In order to meet specific requirements and enhance the anti-counterfeiting effect, our company provides customized printing services.
It means that some customized information, such as logo, text(warranty void if removed), QR code and barcode can be printed on the stock design optical holographic sticker by UV or laser printer as part of the holographic image.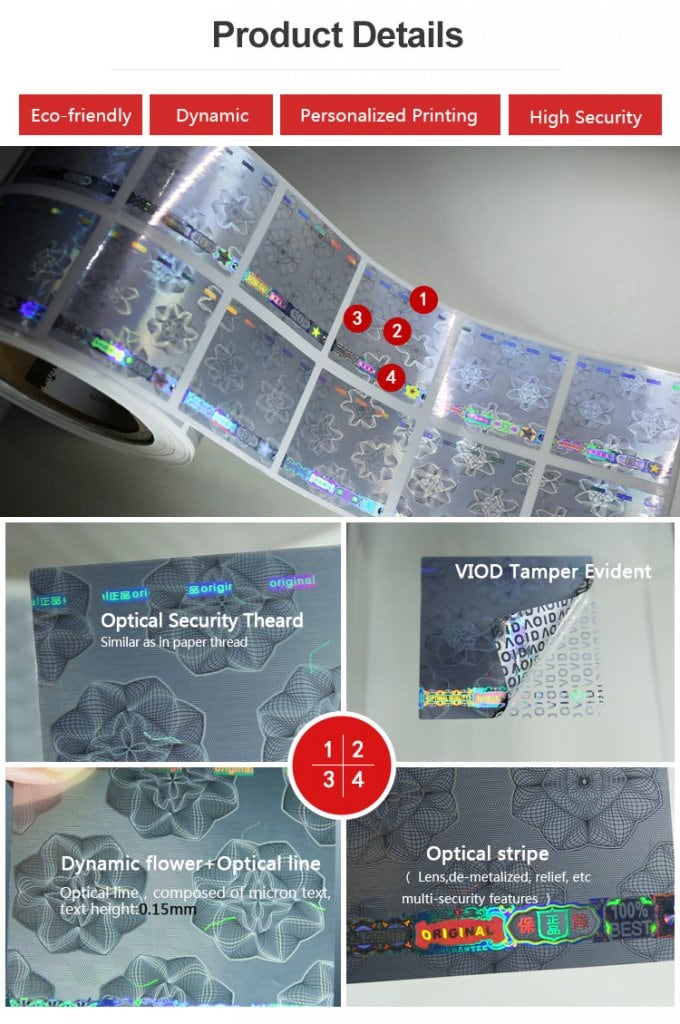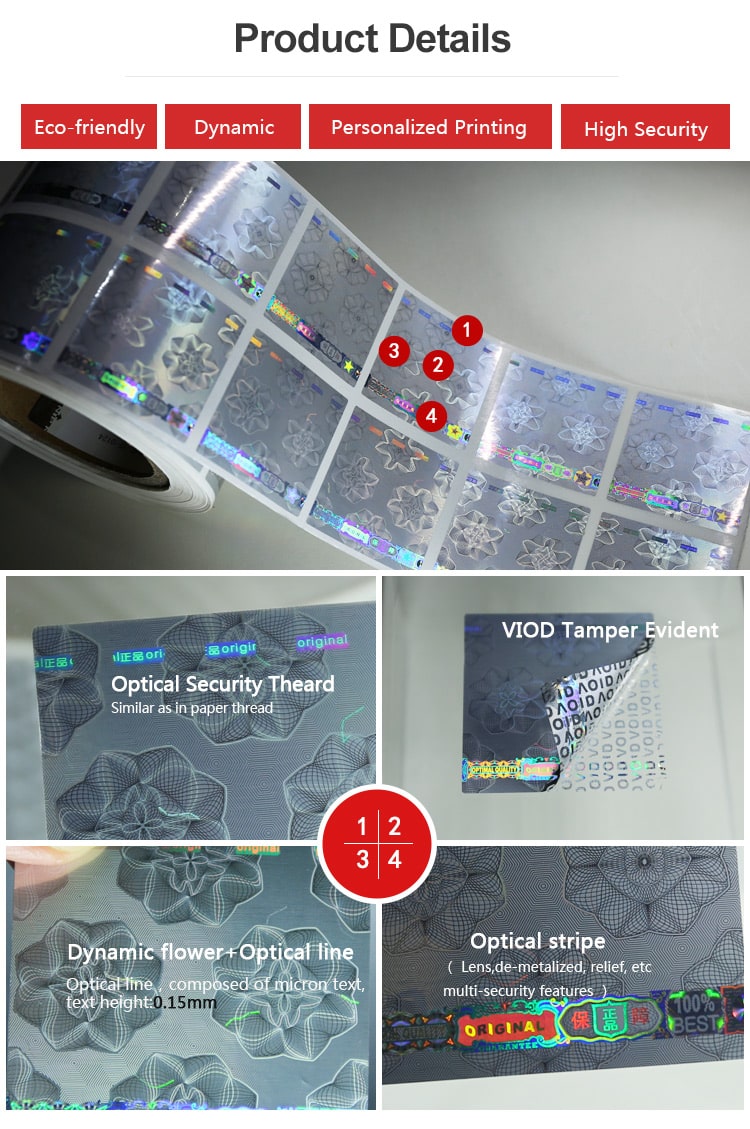 Parameter of Optical Printable Holographic Sticker
Color
Silver
Sticker Shape
Square
Material
30 micron Polyester
Specification
50mm square
Stock Image
Dynamic flower
Imprint
Available to imprint with texts, logos, bar codes and QR codes on the hologram sticker
Security Feature
Void Tamper Evident
In stock
Accept custom printing
Sample
Delivered in the same day
Selling Unit
By roll
Features of Flower Pattern Printable Hologram Sticker
Our general designed flower pattern printable holographic stickers are specially designed for appropriate security applications and initial projects.
It's also embedded with many optical security technologies to increase the security, including optical security thread, optical fiber, with micro text and the text height is 0.15mm, dynamic silver guilloche, foggy white and dynamic silver guilloche (anti-reflection treatment on the surface) and security tape (multi anti-counterfeiting solution).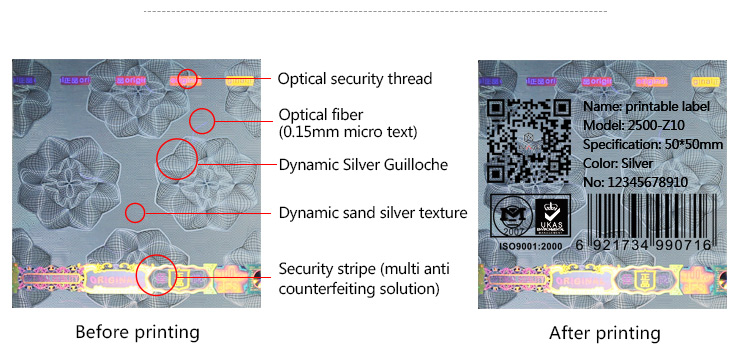 Integrate security features with some custom printing, so that this general design hologram sticker can also be regarded as a customized sticker to a certain extent.
At the same time, VOID self-destructive materials can protect the product from tampering! When the label itself is peeled off, the remaining "VOID" will be displayed on the original surface. This clearly proves that the product can already be accessed by others.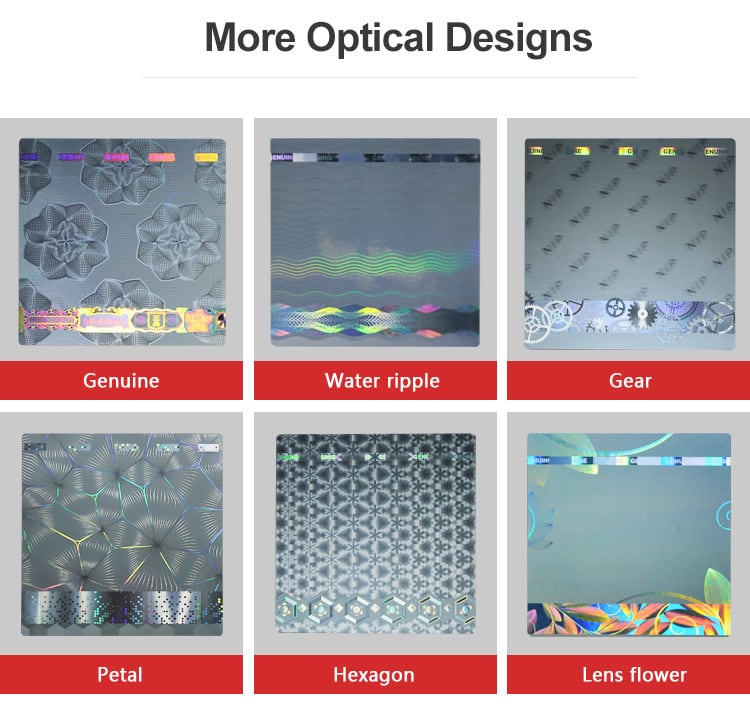 Applications of Printable Hologram Sticker
The printable hologram sticker is flexible use, suitable for both large and small batches, strong versatility, with security features, and no need custom optical hologram mould.
It can be pasted onto packaging items for visual appearance and basic anti-fake. In order to satisfy unique requirements, It's suitable for a variety of label printing equipments, personalized printing and one object one code printing.
The user can print the product specification, standard, QR code, barcode and so on information on the printable holographic sticker in real time. The printing information can be changed at any time.