Paper Printable Holographic Label
Color: Silver
Size: 50mm square
MOQ: 50,000 pcs
Sample: Available
OEM: Accept
Production time: 7 working days
Certificate: IHMA, ISO9001:2015
This paper printable holographic label with a water ripple pattern is one of six stock designs. It can be delivered quickly, with minimum order quantity and affordable price. The material for making this label can usually be 30um PET or paper, it's available if other material required.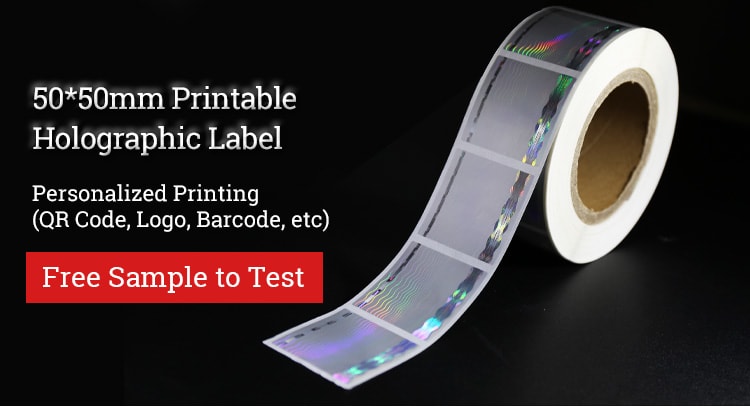 Although this kind of label is relatively affordable, and there is no mould fee. But considering that it is a general texture, others can use it. It is more suitable for promotional products.
If it is for basic anti-fake requirements, the budget is limited, and you want to achieve personalized design, you can consider custom printing on the existing printable holographic label design, our company can also provide printing services, such as QR code, barcode, logo, text, company name, etc.
Parameter of Paper Printable Hologram Label
Color
Silver
Sticker Shape
Square
Material
Paper
Specification
50mm square
Stock Image
Water ripple
Imprint
Available to imprint with texts, logos, bar codes, and QR codes
Security Feature
In stock
Accept custom printing
Sample
Delivered in the same day
Selling Unit
By roll
Features of Water Ripple Printable Holographic Label
Our general texture water ripple printable holographic labels are specially designed for appropriate security applications and initial projects.
It designed with the optical security features of a security thread, gray & white background, rainbow moving effect, composed of micro text, dynamic hyperfine line, and hidden text.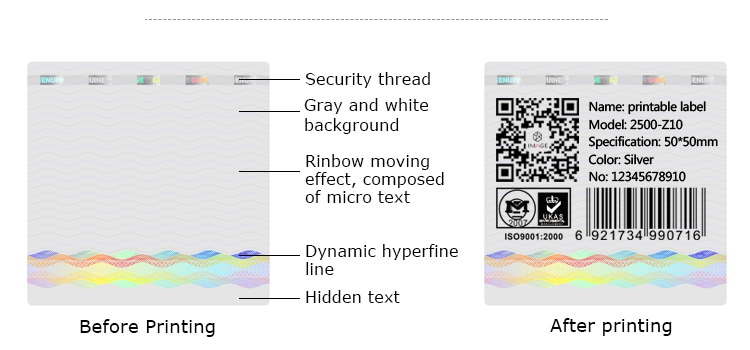 Combining security features with a few custom printing, therefore, this stock design holographic label can also be regarded as a custom label to a certain extent.
Applications of Printable Hologram Label
Printable hologram labels are flexible to use and suitable for large and small batches. They are highly versatile, have security features, and do not require optical mould fee. They can be pasted on the packaged items to obtain an attractive appearance and basic anti-fake effect.
In addition, they can be matched with various label printing equipment, laser printing equipment, and one item one code to meet certain items that require some customized services.