Anti Tamper QR Code Sticker
Color: Silver
Size: 20*35mm
MOQ: 50,000 pcs
Sample: Available
OEM: Accept
Production time: 7 working days
Certificate: IHMA, ISO9001:2015
Description of Anti Tamper QR Hologram Sticker
This QR code hologram sticker is made of silver honeycomb anti tamper material and can be pasted to many safety sealed packaging products to keep the sticker non-removable, and protect the product from tampering.
Embossing the hologram image on silver tamper evident material to make the sticker have good anti-tampering characteristics, then print the QR code on the reserved area and connect with our QR code system to make the label applied to the brand packaging more secure, And it is difficult to copy.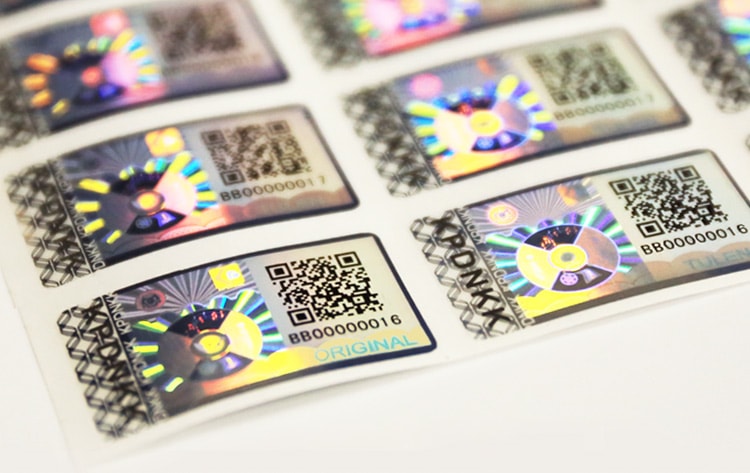 Parameter of Hologram QR Tamper Stickers
| | | | |
| --- | --- | --- | --- |
| Material | 30um PET | OEM | Accept |
| Color | Silver metalized | MOQ | 50K pcs |
| Size | 20*35mm rectangular | Feature | Anti-counterfeit & aesthetic appearance |
| Optical tech | Hidden text, micro text, UV ink | Supply form | In roll/sheet |
| Printing info | QR codes, serials, bar code | Application | Brand & CD package etc |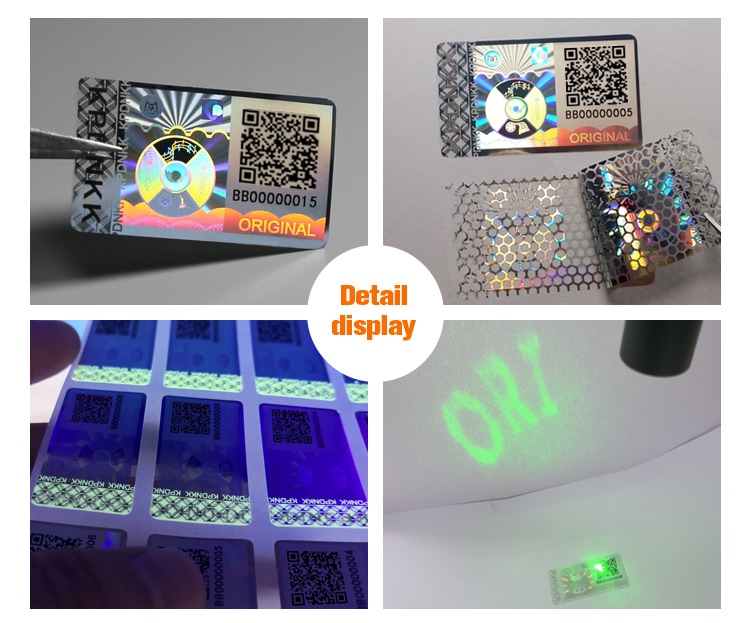 Features of Anti Tampering QR Code Sticker
First, Anti-counterfeit, this hologram anti tampering sticker is produced by advanced lithography machine, which can realize varieties of overt & covert security features, such as flip-flop, hidden text, micro text, UV ink, etc. Here is a video of a hologram sticker that contains these optical technologies.
Second, Tamper evident, leaves the "honeycomb" Pattern if peel off. This is one of the best ways to protect and confirm the authenticity of products. If you try to remove the label, it may provide obvious signs of tampering and indicate that your product is not genuine.
Third, variable QR code & serial numbers printing. In order to more secure & anti-fake, unique QR code and serial number can be printed on the hologram tamper sticker affixed on the product package. It can help customers verify original products and manage their products.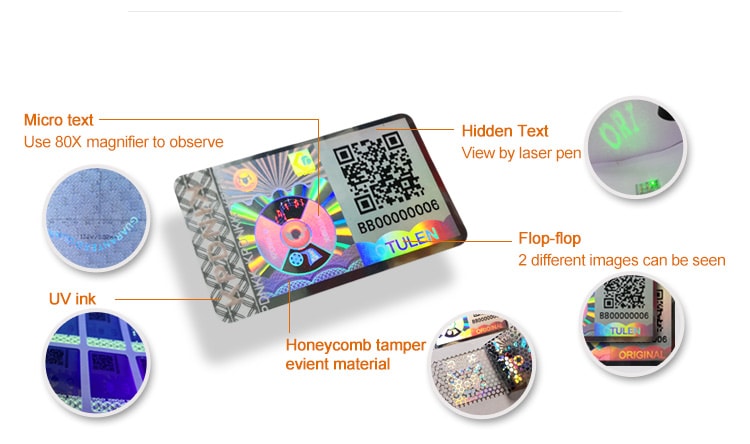 Applications of Anti Tamper QR Hologram
Hologram anti tamper QR code sticker can be used in various industries such as pharmaceutical, toys, cosmetics, food, beverage, CD & government projects ( excise stamps) to fight against counterfeiting.