Rectangle GENUINE SECURE Hologram Sticker
Color: Silver
Size: 18*36mm
MOQ: 50,000 pcs
Sample: Available
OEM: Accept
Production time: 7 working days
Certificate: IHMA, ISO9001:2015
GENUINE SECURE characters and "small lock" images are embedded into the background of the rectangle hologram sticker. As you rotate it around, you can see the shiny optical colors from different angles, and you can observe the two graphics " GENUINE SECURE " and "LOCK " pattern appear alternately, security and beautiful at the same time.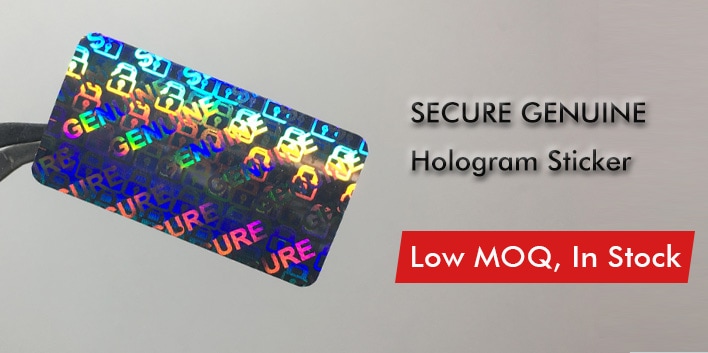 The recgangular hologram sticker are produced on destructible "VOID" materials and cannot be opened without showing signs of a seal breaking. When attempting to remove it, the label will be destroyed and leave a "VOID" pattern. It's a sign that your products are protected and safe.
Color
Silver
Sticker Shape
Rectangular
Material
30 micron Polyester
Specification
18*36mm
Stock Image
GENUINE SECURE
Imprint
No stock imprint, Available to imprint with texts, logos and serials on hologram sticker
Security Feature
Void Tamper Evident
Rainbow color
Sample
Delivered in the same day
Selling Unit
Sheet, 16 pieces per sheet
Besides rectangular, this holographic sticker with secure genuine as background can also be die-cut into a circle, letter "P", and other customized shapes. See the following pictures.
The hologram sticker is manufactured by a high-resolution dot matrix machine, which can record high-precision holographic images, which are unreachable by the printing process and are very safe to combat counterfeiting.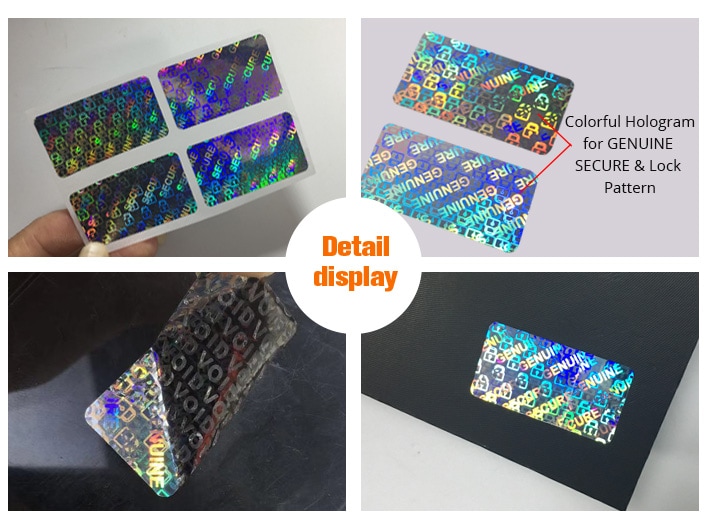 Everyone can buy and affix a generic design sticker on the product, so this kind of texture can only provide appropriate security. However, our company provides a dedicated printing service, which means that it can print some serial numbers, texts, and logos on existing generic patterns to enhance security. For any product that requires a high degree of security protection, please select a fully customized logo design hologram sticker.
This rectangular secure genuine hologram sticker uses tamper proof material to protect brand products from tampering and counterfeiting. Any acts that attempt to remove it will result in the appearance of "VOID" and these residues prove that this product is not being genuine. Therefore, it provides additional security against counterfeit products.
This sticker is applicable to these products that require an appropriate level of security and pay much attention to an aesthetic appearance. They can be affixed to varieties of packaging materials, such as paper, plastic, glass, and so on.