Round Hologram Sticker
Color: Silver
Size: 15mm dia
MOQ: 50,000 pcs
Sample: Available
OEM: Accept
Production time: 7 working days
Certificate: IHMA, ISO9001:2015
On the background of this small-sized round hologram sticker, there is a repeated word "GENUINE SECURE" and two repeated patterns, called lens and lock. When the label is viewed from a certain angle, these elements have a deep sense of depth and are very shiny.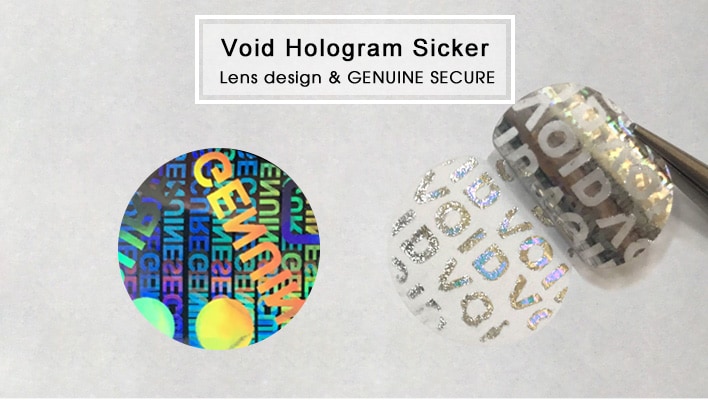 Especially the lens pattern on the hologram sticker looks like crystal clear water droplets, which is very attractive. It can add perceived value to branded products.
On the other hand, the complicated production process makes the small holographic sticker itself unable to be copied by using a printer or photocopier, thus providing appropriate safety protection.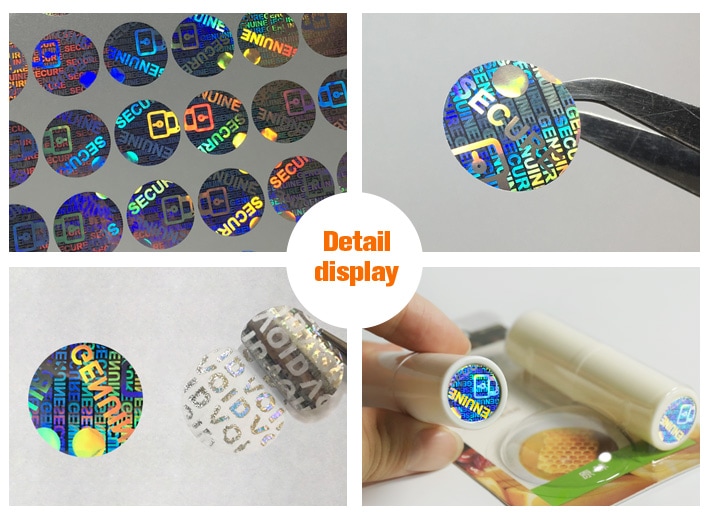 Color
Silver
Sticker Shape
Round
Material
30 micron Polyester
Specification
15mm dia
Stock Image
Lens, Lock, and GENUINE SECURE
Imprint
No stock imprint, Available to imprint with texts, logos and serials on hologram sticker
Security Feature
Void Tamper Evident
Rainbow color
Sample
Delivered in the same day
Selling Unit
Sheet, 16 pieces per sheet
This hologram sticker with the lens, lock, and GENUINE SECURE image as the background can be die-cut into various shapes, such as circle, rectangular, "P", and any other shapes as per the client's requirement.
This 15mm dia small hologram sticker has an anti-tampering feature, which will lead to "VOID" is left behind as residues if someone tries to remove it. Thereby offers additional security to fight against fake products.
In addition, it also contains about four security technologies to increase security performance and enhance visual effects, such as lens, lock design, and rainbow colors.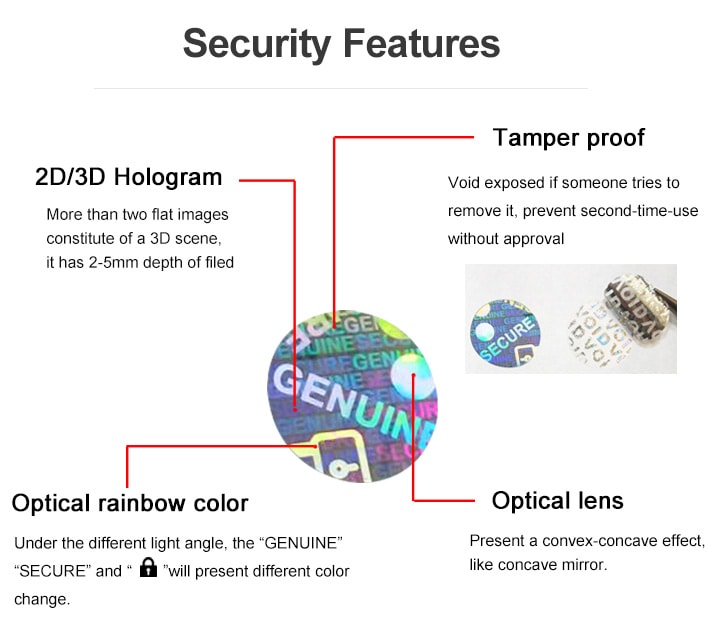 Holographic stickers have become vital to many industries to prove authenticity and for tamper-evident. Small size design is applied to lip gloss packaging to make your products more refined and high-end.
Here are some industries that can also use this label:
Electronics Industries
Automobile Industries
Food and Beverage Industries
Pharmaceutical Industries
Machine Industries
Documents & Certificates
Government projects(tax stamp, driving license, passport)