Tamper Evident Security Barcode Labels
Color: Silver
Size: 50mm square
MOQ: 50,000 pcs
Sample: Available
OEM: Accept
Production time: 7 working days
Certificate: IHMA, ISO9001:2015
This security barcode label is manufactured by using destructible tamper evident materials. Once applied to any product, it is not removable, otherwise, the VOID residue will appear.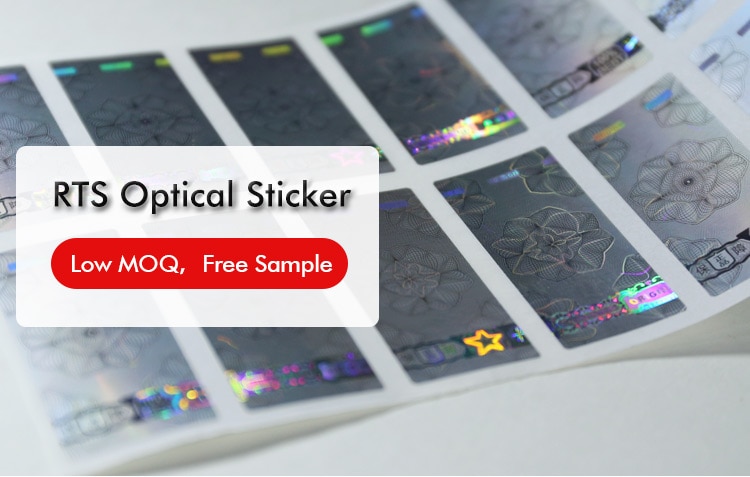 The background of this hologram label comes from a ready-made design. But they are printable and can be personalized, To improve security, you can print the barcode, serial code, QR code, logo and any other information on it.
They are low cost, low MOQ, and can be used for custom printing. Professional hologram master marking systems make the tamper evident security barcode label contain many optical technologies. And company and brand information can be custom imprinted on the label by the printer for different applications.
Parameter of Void Security Barcode Labels
Color
Silver
Sticker Shape
Square
Material
30micron Polyester
Specification
50mm square
Stock Image
Petal
Printing information
QR code/serial/random number/verify code/
bar code
Code type
TTR/UV/Laser numbering
Security Feature
Void tamper evident, in stock, anti-fake, aesthetic
Sample
Delivered in the same day
Selling Unit
By roll
This void security barcode label can be die-cut into various sizes and printed with QR codes, barcodes, brand logos, and company names to realize unique design at an affordable price.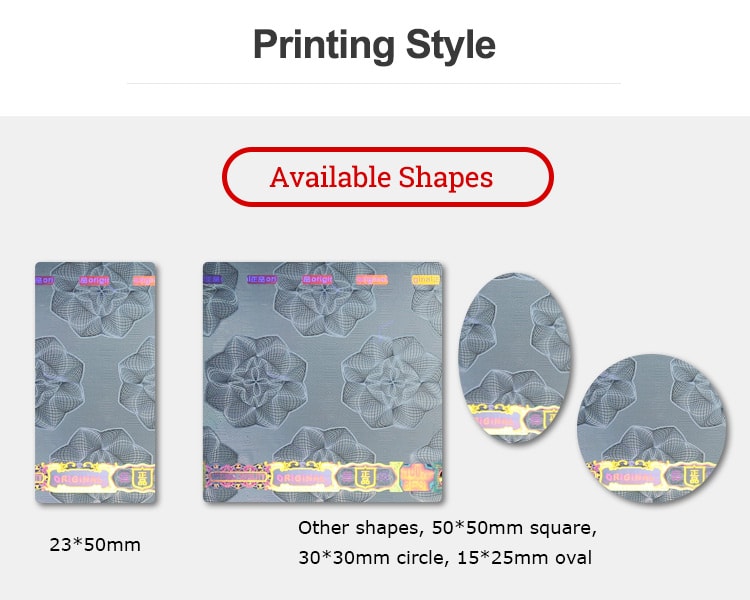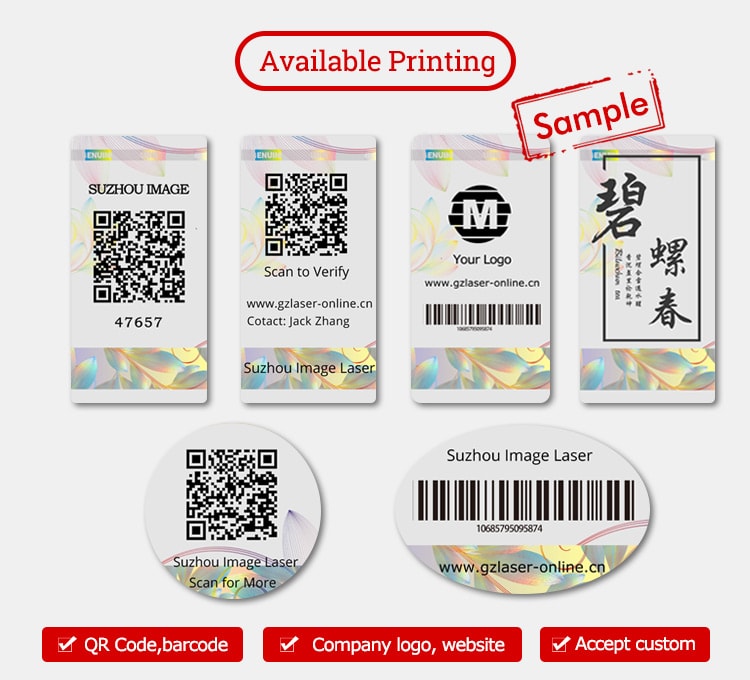 Features of Tamper Evident Barcode Labels
This dynamic flower pattern tamper evident barcode label designed with all kinds of overt and covert security features. Not only barcode, but they also can be printed QR code, serial number, and other what you want to print it, like company information, logo, and so on.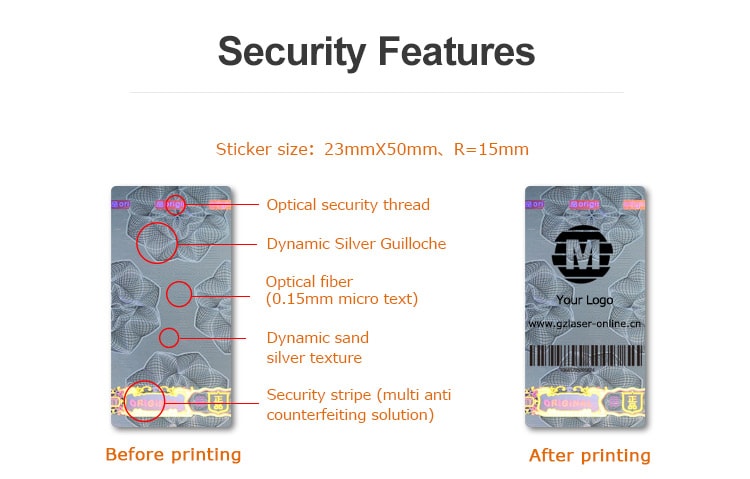 One level: Overt—- optical thread, guilloche, and dynamic sand silver, observed by naked eyes.
Second level: Covert—- optical thread, made by 0.15mm micro text, compared with overt features, the micro text needs to use tools to observe the hidden information, so it offers a higher level of anti-fake performance.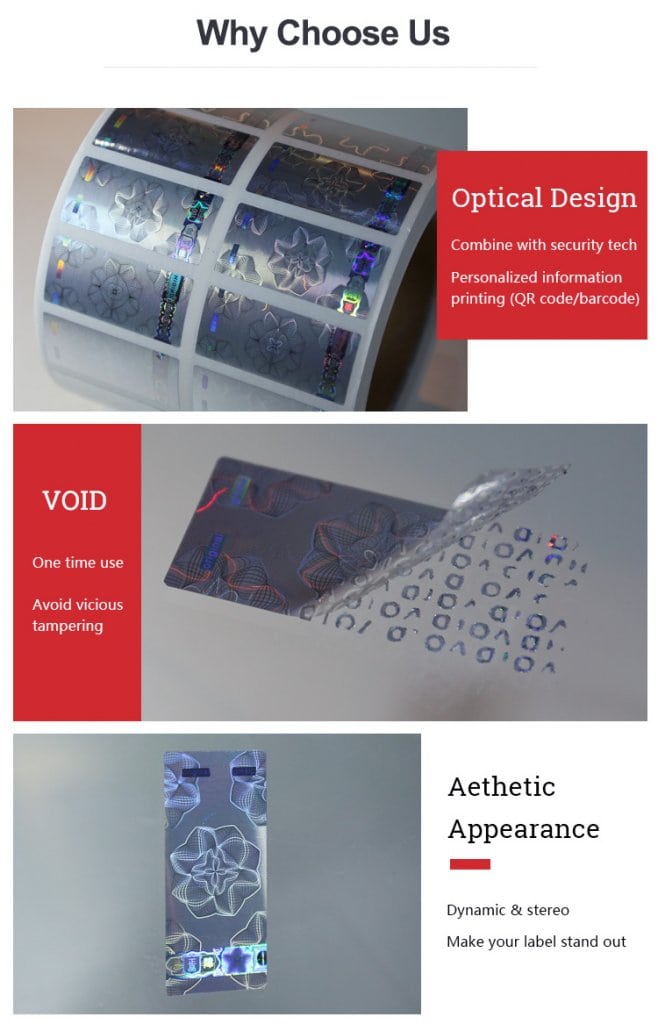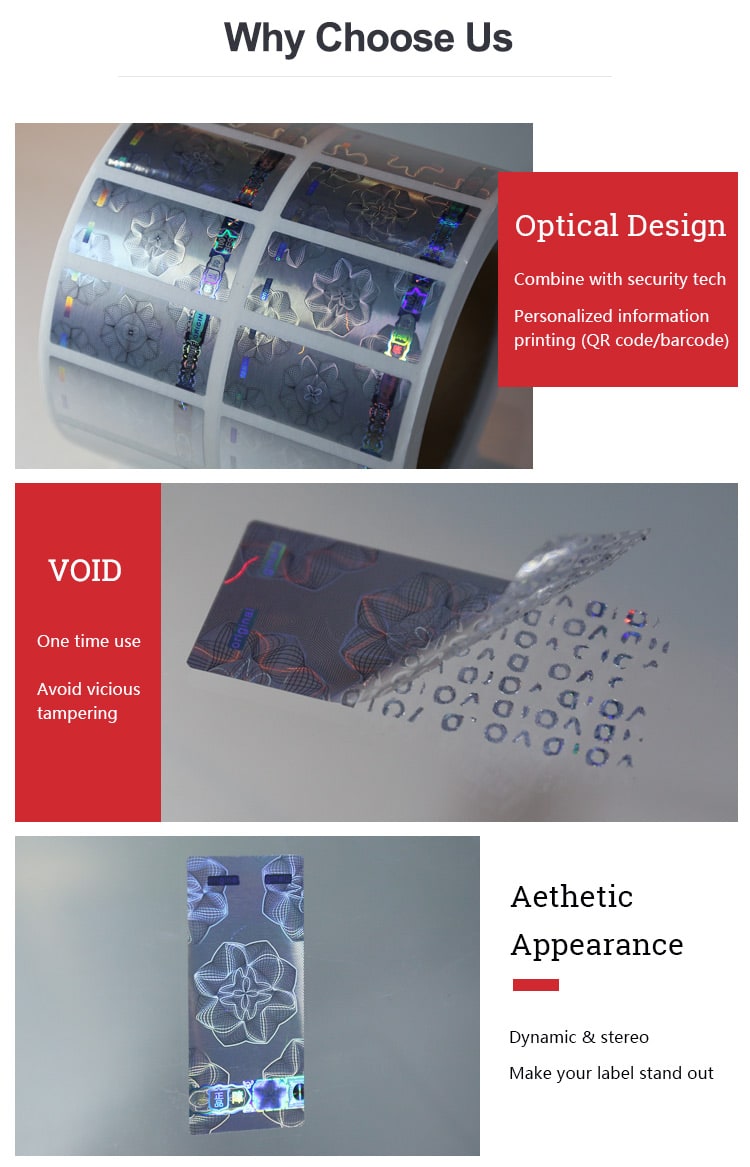 Applications of Tamper Evident Security Barcode Labels
Tamper evident security labels with printed barcodes can be used for seal authentication of packaging items. This type of label provides evidence that if tampered with, the word "void" appear as a evidence of tampering upon the original place. The following are some industries where these labels have been applied
Kids toys
Cosmetic and Personal Care Products
Pharmaceutical Industry
Garment Industry
Vehicle documents
Electronic appliance
Mobile phone accessories