Tamper Evident Security Labels
Color: Silver
Size: 15*20mm oval
MOQ: 50,000 pcs
Sample: Available
OEM: Accept
Production time: 7 working days
Certificate: IHMA, ISO9001:2015
Tamper Evident Security Label Description
This oval shape tamper proof security label is usually affixed to the sealed position of the package to prevent unauthorized access. If someone tries to separate and a honeycomb shape residue appears. It warned people that this product may not be the original one.
Honeycomb tamper evident function combined with high-security hologram images can provide a higher level of security protection for your products and packaging. It can effectively reduce the possibility of secondary use. Therefore, this plays a vital role in maintaining the originality of the product.
Tamper Evident Security Labels Parameter
Material
30um PET
OEM
Accept
Color
Silver metalized
MOQ
50K pcs
Size
15*20mm oval
Supply form
In roll
Optical tech
3D dynamic, optical thread
Feature
Brand protection
Honeycomb tamper proof
Asthetic appearance
Printing info
Serials and bracodes
Application
Warranty seal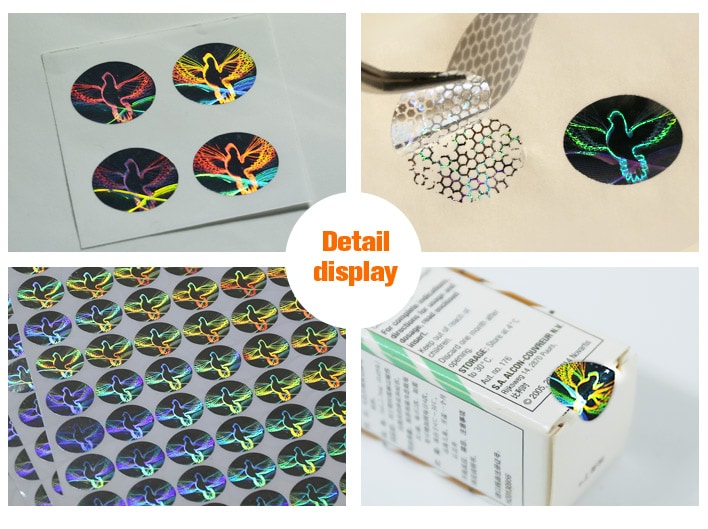 Tamper Proof Security Labels Features
The working principle of tamper proof security labels is very simple. The optical image is embossed on the honeycomb destructive material. When tampered with, the adhesive coating of the security label will be transferred to the surface of the object. Then you will see some residues.
In addition to the honeycomb image, our company has developed a variety of hologram tamper proof labels, which are self-destructive materials that are very popular in the market and used at high frequencies. The only difference is that when someone tries to move it from one location to another, different residual patterns, "VOID", dots and custom patterns appear.
Honeycomb Tamper Evident Applications
This honeycomb tamper proof security label is available for various packaging seal application, including:
Cosmetic boxes and bottles
Pharmaceutical Industry
Kids Toys Packaging
Government documents