Transparent Holographic Label
Color: Silver
Size: 50mm square
MOQ: 50,000 pcs
Sample: Available
OEM: Accept
Production time: 7 working days
Certificate: IHMA, ISO9001:2015
This square transparent hologram label is a generic design, specially designed for mother and baby products. The clear label is attached to your brand packaging. When viewed from different angles, it will have a dynamic rainbow effect. Thereby increasing the perceived value of the product and establishing the brand image.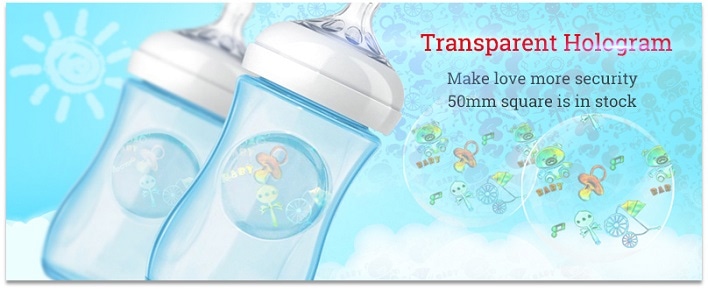 The clear holographic label on the product is a sign of product authenticity. Although it is a stock texture, you can also embed your brand logo, text, and high-security hologram features in the label to achieve a stronger anti-counterfeiting effect and brand awareness promotion.
Item
Transparent holographic label
OEM
Accept
Size
50mm square
MOQ
50K pcs
Material
30um PET silver
Supply form
In roll/sheet
Glue type
Pressure Sensitive Adhesive
Feature
Anti-fake/Aesthetic
appearance
Application
Mother & baby products and brand package
Certificates
ISO9001, ISO27001, IHMA
The process and cost of making a transparent holographic label are very high, requiring specialized equipment and technicians, which eventually leads to counterfeiters' retreat.
Our company is a member of IHMA and has passed ISO 9001 and ISO27001 certification. A strict quality control system ensures that every transparent hologram sticker provided to customers is qualified.
These clear hologram labels have passed the RoHS test. The following are some anti-counterfeiting technologies used in the label.
The clear holographic label can be used as part of marketing and branding. It's usually affixed to a range of package items, such as mother & baby products, cosmetic bottle body, pharmaceutical, food packaging, warranty seal package, and so on.