Transparent ID Hologram Pouch
Material: 175 micron PET
Specification: 175*225mm
Usage: ID badge and card
Feature: Anti-counterfeit
MOQ: 5,000 pcs
Sample: Available
Certificate: IHMA, ISO9001, ISO27001
The transparent hologram pouch is a protective layer covering the surface of the ID card to protect your card from fraud and forgery. At the same time, the transparent holographic material layer makes the card stand out and easier to identify.

In order to improve security, in addition to using different sizes, the transparent hologram pouch can also have custom graphics and security elements to prevent counterfeiters from trying to imitate them. Click here for more hologram lamination pouches with different sizes and designs.
Product
Transparent hologram pouch
Pattern
Customize
Material
Polyester
Thickness
175 micron
Color
Transparent
Size
175*225mm
Feature
Anti-counterfeit
Fading resistance
Long-term storage
Cases
2008 Bejing Olympic Games
2018 Pyeongchang Olympic Games
Buenos Aires 2018 Youth Olympic Games, etc
MOQ
5,000pcs
Certificate
IHMA, ISO27001, ISO9001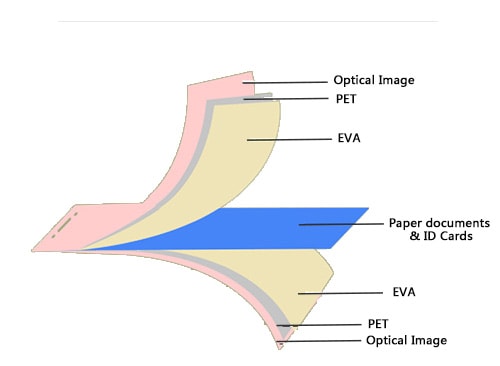 You can customize your own patterns on the transparent id hologram pouch to meet unique needs. The holographic material can present beautiful dynamic changes and incorporate some anti-counterfeiting features to prevent counterfeiting. The following are some of its features.
50 microns to 250 microns on one side
High brightness enhances its overall visual effect
High transparency can ensure personal information is visible
Protect ID cards from forgery
Equipped with a special laminating machine
How to Use Transparent Hologram Pouch to Laminate ID Badge and Card?
You need to place the ID badge or card in the middle of the two transparent hologram pouch, then put them in the pouch laminator, and finally heat seal to combine them together, which is difficult to lift after lamination.
This can protect personal data from tampering and does not affect the display of personal information on ID badges or cards.
As a security solutions company, Suzhou Image Laser provides a variety of custom hologram pouches to more easily protect your id cards, venue passes, admission cards, and driving license from altering.
Projects that have been cooperated so far are the 2008 Beijing Olympic Games, 2018 Pyeongchang Olympic Games, Buenos Aires 2018 Youth Olympic Games, National IDs & Driving License.