The security thread can also be called woven yarn, which is linear, non-sticky, and washable. It is usually provided in roll form and is mainly used for weaving into woven labels of branded clothing for security and decorative purposes.
For more security, You can embed your own logo, graphics and personalized information in the high precision thread.
Suzhou Image Laser has always specialized in producing holographic security threads with a width of less than 1 mm. In a specific light, the hologram thread appears rainbow changes. With 80 times magnifying glass, you can observe the micron-level micro text. Therefore, it integrates beautiful and security anti-counterfeiting technology.
| Security Thread Specification |
| | | | | |
| --- | --- | --- | --- | --- |
| variety | Material | Width | Thickness | Packing specification |
| Patterns register | P ET | 0.7-1mm | 36 um | 0.7-1mm 36 um 1000m/roll 16roll/carton |
| Patterns random | P ET | 0.7-1mm | 36 um | 0.7-1mm 36 um 1000m/roll 16roll/carton |
Other specifications can be customized according to customer requirements.
| Application of Hologram Thread |
The hologram thread can be used as woven tape, woven label, woven into textile products. Applicable to all kinds of clothing, shoes, and hats woven label, can be used as a security identification of brand products.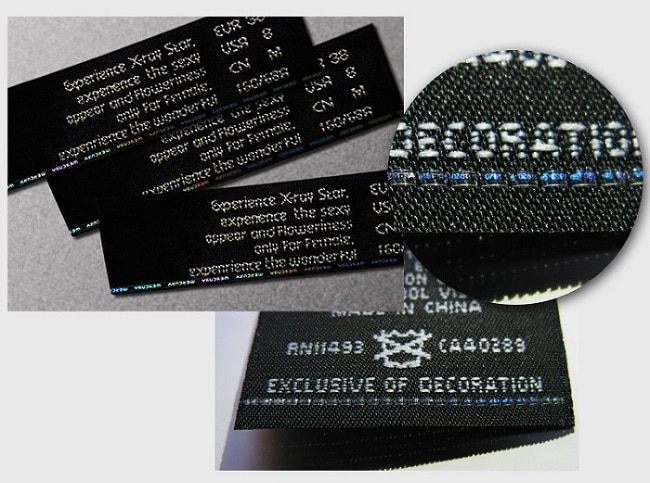 According to data research, more and more brands are now focusing on brand safety, and more than 80% of the top brand has used this high precision security hologram thread on their woven labels. The whole process only needs a special braiding machine.
As a professional security thread manufacturer and supplier, our company provides security threads in various colors, including silver and gold.
Moreover, the security holographic thread produced by Suzhou Image Laser can be as thin as 0.7 mm, which is an accuracy that is almost unattainable by other suppliers. It can make your products look more exquisite and difficult to forge. Not only that, but we will also add many optical anti-counterfeiting elements to the high precision security thread to further improve its security.
| Usage Advice of Holographic Thread |
1) It is recommended to use warp knitting. If weft knitting is required, weft feeder is required.
2) Save the environment, store at normal temperature (-5 ℃ -40 ℃), avoid direct sunlight and moisture.
3) When security thread is used as a weft, the improper operation is easy to catch and break, and it needs to be equipped with professional synchronous rotating security thread Weft feeder.
KQI of Security Thread
| | |
| --- | --- |
| Width | ±0.1mm |
| Slit deviation | ±0.15mm |
| Connect | ≤2pcs / km |
| Tensile Strength | ≥200kN/m |
| Elongation at break | ≤30% |
The above index is the typical value is not guaranteeing value, only for reference. The specific index is subject to the contract. Due to the advancement of technology, the above indicators may be further improved. Please consult the sales engineer to confirm.
In addition to the holographic security thread less than 1mm, Suzhou Image Laser also provides a slightly wider thread, which we usually call tear tape, it is usually used on brand packages to help customers open the package more easily on the basis of anti-counterfeiting.
If you have any questions, please contact our sales staff, you will get what you want here!
Relevant articles