Tear tape is a thin and narrow strip, mainly used for easy opening of products with transparent film packaging such as tobacco, medicine, cosmetics, tea, poker, chewing gum, etc.
In addition to the easy opening function, the self-adhesive tear tape can also incorporate some optical elements to make it anti-counterfeiting and beautiful.
At the same time, based on optical effects, it can also combine printing, fluorescent color, micro text, and other technologies to enhance its security features.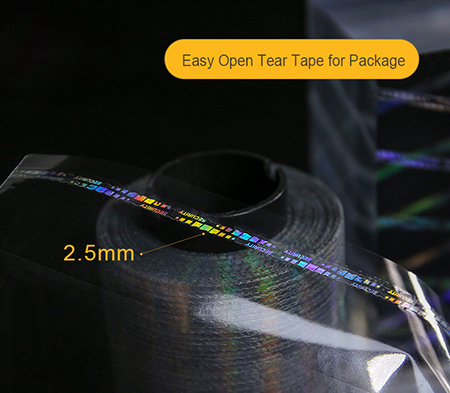 Suzhou Image Laser offers holographic tear tapes in customized colors, sizes, and designs to cater to different industrial applications.
Its application makes branded packaging more attractive and safe. In addition, it provides customers with an easy-to-open device that allows customers to quickly open product packages by simply pulling the anti-counterfeiting tear tape. Therefore, this greatly improves the user experience.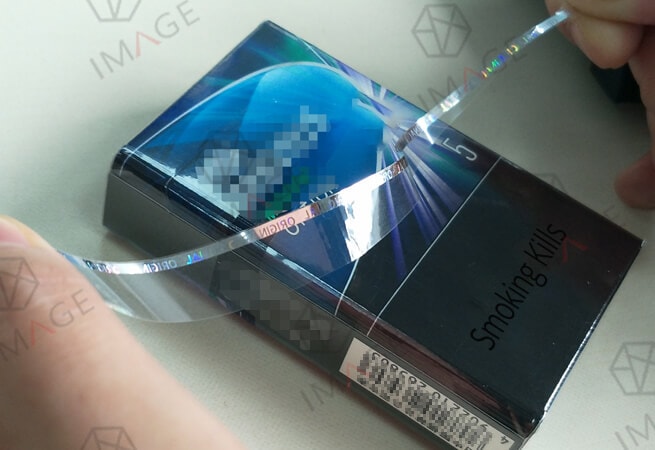 | Tear Strip Tape Videos |
Suzhou Image Laser, a professional tear tape manufacturer in China, provides users with better products through continuous improvement and upgrading. Ultimately, make your product packaging more novel, more beautiful, easier to open, and difficult to be counterfeited.
According to statistics, currently, the cigarette industry is the main end-user of tear strip tape. And it's expected to grow at a CAGR of approximately 2.5% during the forecast period. It has become an accessory product of the packaging.
| Features of Holographic Tear Tape |
Base material BOPP and PET
The width is varied from 1.5mm to 8mm
Serve as a tool for customers to quickly open the package
Allow to position the required information in the holographic tear tape to improve brand awareness.
The shiny holography maximizes the impact of the shelf and increases security.
Suitable for tobacco, tea, pharmaceutical, poker, CD, K chewing gum, and other industries.
| Application of Tear Tape |
Tear tapes are an effective tool for brand protection and promotion, can be seen in many various industries. Choosing the right tear strip depends mainly on the packaging material of the finished product, the desired properties, and the possibilities of the packaging machine.
| Types of Security Tear Tape |
Suzhou Image Laser mainly provides two kinds of security tear tapes (BOPP and PET) with thicknesses of 30um and 36um separately. They are available in different colors, including gold, silver, transparent and red, color. Moreover, personalized information is available on request. We are able to supply different widths according to your requirements.
| | | | | |
| --- | --- | --- | --- | --- |
| Tear Off Tape Type | Material | Width | Thickness | Packing specification |
| Transparent | PET | 1.5-8mm | 30um,36um | ≤24m²/ roll, 16 rolls/carton |
| Hollow anti-counterfeiting | PET | 1.5-8mm | 30um,36um | ≤24m²/ roll, 16 rolls/carton |
| Hollow anti-counterfeiting | BOPP | 2- 8mm | 35um | ≤24m²/ roll, 16 rolls/carton |
| Silver | PET | 1.5-8mm | 30um,36um | ≤24m²/ roll, 16 rolls/carton |
| Gold | PET | 1.5-8mm | 30um,36um | ≤24m²/ roll, 16 rolls/carton |
| Color | PET | 1.5-8mm | 30um,36um | ≤24m²/ roll, 16 rolls/carton |
Other specifications are available upon customer request. If you're interested in tapes that are less than 1mm wide, security threads may be right for you, but they're usually used on branded apparel
| Production Process of Self Adhesive Tear Tape |
We have passed ISO9001:2015 certification to ensure that our self adhesive tear tapes delivered to customers are qualified. Suzhou Image Laser strictly controls each production step, from raw materials, making hologram images, embossing, adhesive, slitting, rewinding to packaging.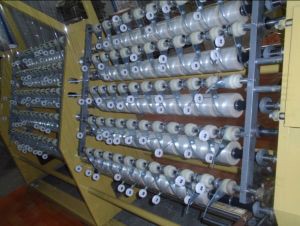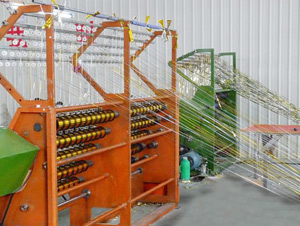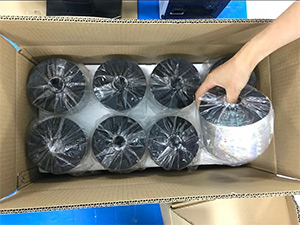 | Usage Advice of Anti-counterfeit Tear Tape |
Related articles of Optical Tear Tapes