Anti Counterfeit Hologram Label
Color: Silver
Size: 25mm square
MOQ: 50,000 pcs
Sample: Available
OEM: Accept
Production time: 7 working days
Certificate: IHMA, ISO9001:2015
This kind of anti counterfeit label, with black printing as the background, has high-frequency light diffraction safety anti-counterfeiting technology and is widely used in the packaging of wine bottles, electronic products, cosmetics, and other products.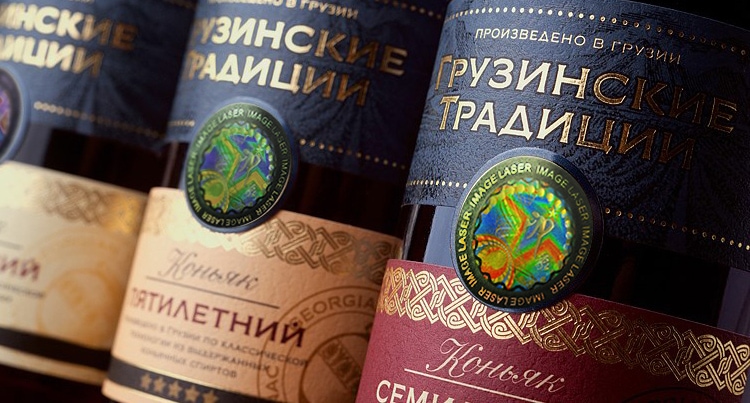 In daily life, counterfeiters have long preyed upon consumers' vulnerability in order to make a quick profit, As a security hologram manufacturer, helping the company choose a secure hologram anti forgery sticker solutions to protect its strong company image is one of our main tasks.
| | | | |
| --- | --- | --- | --- |
| Item | Anti counterfeiting label | OEM | Accept |
| Size | 30mm round | MOQ | 50K pcs |
| Material | 30um PET silver | Supply form | In sheet |
| Glue type | Pressure Sensitive Adhesive | Feature | Anti-fake/Aesthetic appearance |
| Application | Product packaging | Certificate | IHMA, ISO9001, ISO27001 |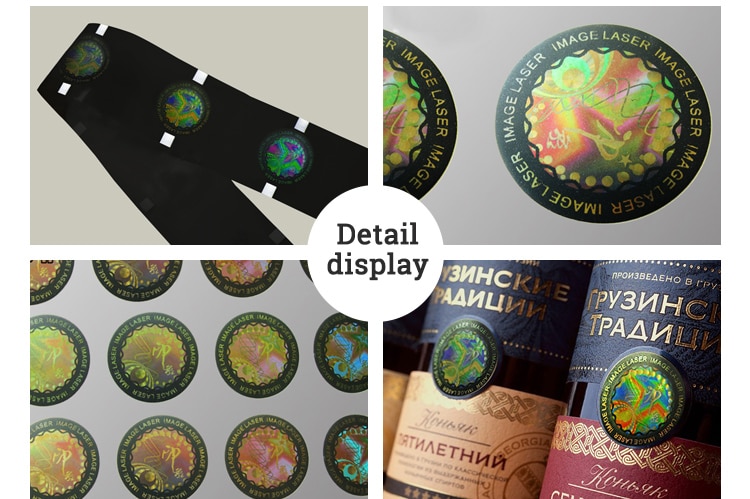 Our company has the ability to apply a wide range of optical techniques to manufacture high-security anti counterfeit labels for your applications. This circular anti forgery sticker mainly uses the following anti-counterfeiting technologies, including optical lens, de-metalized, micro text, high-frequency holographic grating (light diffraction), and zoo in/out. You can visit the bellowed pictures.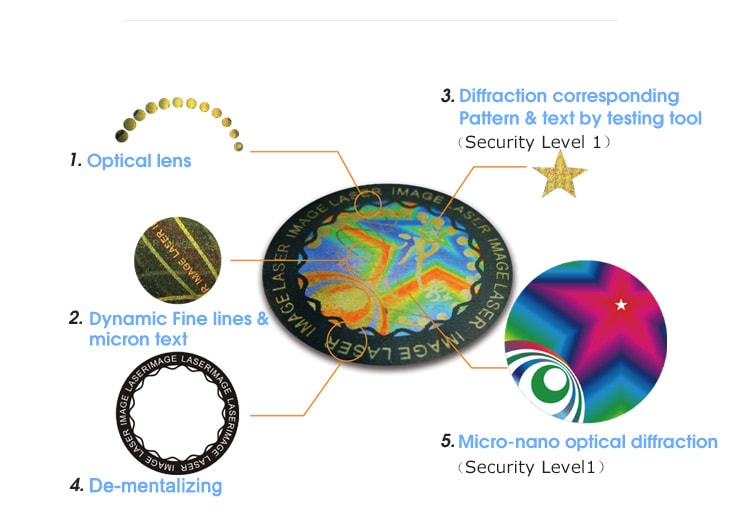 Among them, light Diffraction is a very special optical security technology. When the viewing angle turns 90°, it can present red to green color change, which is easy to identify, but it is difficult to forge. Light diffraction is often found on sensitive documents, driving licenses, and national ID projects.
Hologram anti-counterfeit labels can be customized with various sizes, shapes, colors, and logo designs for different industries. Apart from wine bottles, electronic products, cosmetics, it can also be used for kids' toys, food & beverages, pharmaceutical and garments, etc. Thus make brand & products more security.