Hologram Security Void Sticker
Color: Silver
Size: 20*50mm
MOQ: 50,000 pcs
Sample: Available
OEM: Accept
Production time: 7 working days
Certificate: IHMA, ISO9001:2015
Security Void Sticker Description
Our company provides a series of security void stickers, which can provide excellent protection for warranty seals and important documents. They have a unique feature, that is, it will leaves "void" residues if removed the hologram sticker.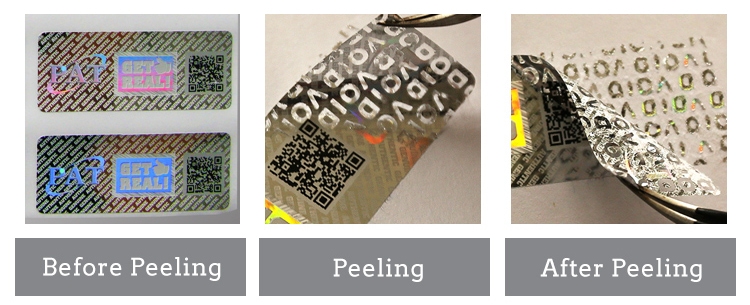 For more security applications, all of the hologram stickers we produce can be customized from size, color, shape, logo & security elements. In addition, the combination of unique QR code printing makes the product easier to verify and hard to falsify.
Hologram Void Sticker Specification
Item
Security void sticker
OEM
Accept
Size
20*50mm rectangular
MOQ
50K pcs
Material
30um PET silver
Supply form
In sheet/roll
Glue type
Pressure Sensitive Adhesive
Feature
Anti-counterfeit/Brand protection/Aesthetic
appearance
Application
Packaging items
Certificates
IHMA, ISO9001, ISO27001
Hologram Security Void Sticker Features
Void tamper-evident, the sticker is embossed on destructive PET material, the holographic void appears on the place which is applied if someone removed stickers.
Combination with QR Code, hologram void sticker with QR code is a proven method to combat counterfeiting. This is not only benefited to clients but also brand owners. Brand owners can advise their brands & products. Clients can verify the product they purchase whether it is genuine.
Security Void Sticker Applications
Security void stickers are basically made by advanced hologram technologies, which can be used to protect the product from forgery and tampering, prevent illegal second-time-use.
They can be used for various industries like:
Brand package (Cosmetic and Personal Care Products)
Tobacco Industry
Pharmaceutical Industry
Electronic accessories
Sensitive documents
Automotive spare parts