Currently, more and more fake products emerge in the market. As a manufacturer of security hologram products, we really hope to avoid counterfeiting issues, no forgery in our life.
According to a new report by the OECD and the EU's Intellectual Property Office, counterfeit and pirated goods have risen steadily in the last few years. Here is the graphics by them. We can see footwear & clothing are the most hit by counterfeit.

From the OECD and the EU's Intellectual Property Office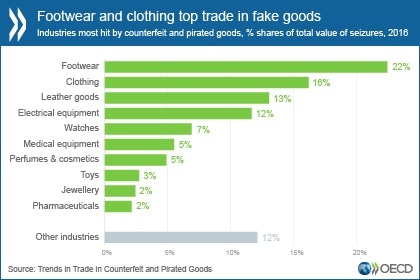 So many successful brands are facing the challenge of counterfeiting. Faced with this situation, Suzhou Imaging Laser hope that through our unremitting efforts in hologram products and technologies, we can ultimately reduce the possibility of counterfeiting and tell end-users how to authenticate counterfeit products to protect their own interests.
Here share 3 tips to tell you how to identify fake products.
Actually, there are many ways to identify fake products, such as QR code verification, tamper-evident graphics, and security features. Brand owners can adopt those ways to enhance security, at the same time, the purchaser can quickly authenticate them.
QR code scanning tells you whether the product is real?
We can find many types of codes in the market, such as QR Code, barcode, scratch code, running serials, and so on. Among this, the QR code is the most popular with manufacturers & customers.
Our company pushes out the holographic QR code sticker, it's a combination of QR Code with hologram techniques. It's easy to identify if the product they purchase is genuine through QR Code.
When they scan the QR Code area by mobile phone or other tools, Relevant information on products and manufactures will be read. Meanwhile, we can print consecutive serial numbers & barcode on the hologram stickers.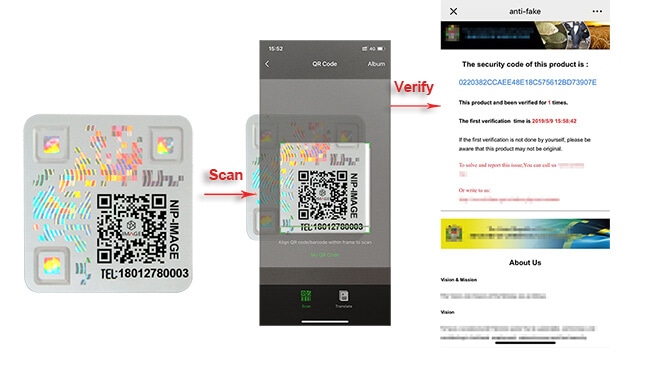 Tamper Evident Hologram Help identify Fake products.
Tamper evident hologram is commonly used for seal area, which is produced by destructible PET material. The hologram image will be destroyed if someone tries to attempt. They offer additional security to fight against forge products.
They are divided into 4 types, including void, honeycomb, dots & custom images. Generally speaking, void, honeycomb, dots can fully satisfy requirements.
It can prevent unauthorized access to brand package & products. If someone removes the holographic sticker, void or honeycomb will be exposed. That will reveal it's not an original one.
Security features help identify fake products.
Generally, some appropriate levels of security will be inlaid into stickers according to different requirements. If brand owners affixed holographic custom stickers with security features on their products, it's benefited to customers and brand owners.
The use of it creates goodwill of product among consumers and soon identify the brand itself. At the same time, reduce the possibilities of counterfeiting. Identification ways as follows:
Overt feature, it can be identified by naked eyes, such as a flip-flop, a holographic grating, optical lens, etc.
Cover feature, it requires a special tool like magnify glass or laser pointer, such as micro text, hidden text, UV ink.
Forensic features that require specialized technicians to verify.
Pixel Image

Hidden Text

Micro Text

Fluorescent-Ink
We can observe some hidden information with these tools. Covert and forensic features are applicable to more security applications, almost impossible to counterfeit.
If you want to know more identification methods, welcome to contact us, it's our honor to help you.