Printable hologram labels, it is not difficult to understand, that is, you can do some printing information on the labels to achieve partial custom effects.
You can print logo, text, QR code, barcode, and other printing on the holographic label surface, So as to make your package unique, beautiful, and not easy to be imitated by others.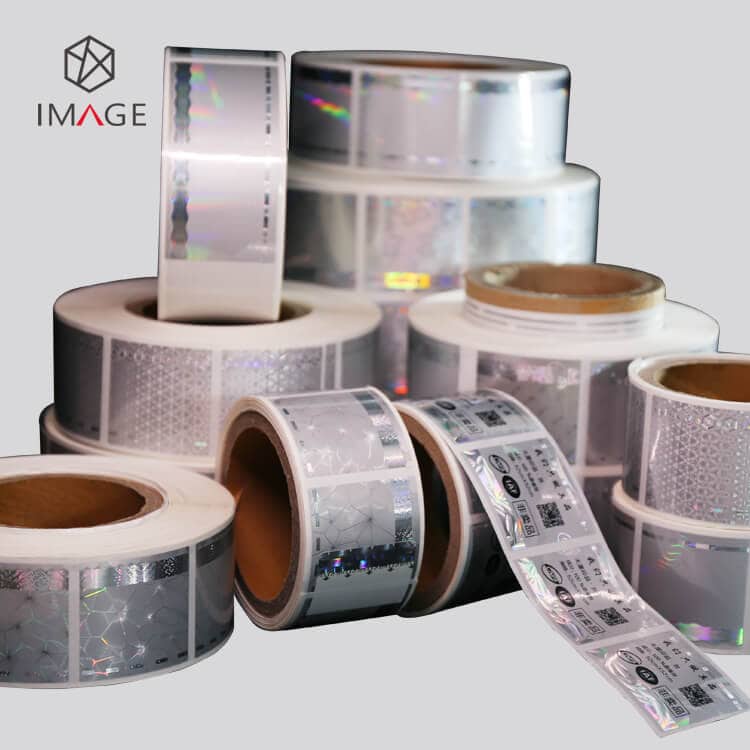 The printable holographic label is actually a stock sticker. The difference is that some customized printing can be done on the generic sticker texture according to the specific needs of customers. However, stock holograms can be shipped directly to customers without any personalized printing.
Although the texture itself is generic, can be sold to other users. However, combined with custom printing, it can be your own unique sticker with high-cost performance.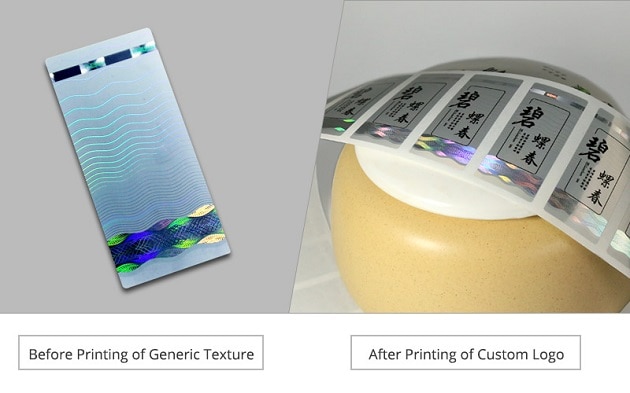 Compared with personalised custom hologram sticker, since the general texture has no mold fee, the cost performance is not very high. It is very suitable for those projects that pay great attention to the glossy appearance and need an appropriate anti-counterfeiting effect.
| Features of Printable Hologram Labels |
| Types of Printable Holographic Labels |
Printable holographic labels are divided into many different forms from available generic hologram texture, printing information to code types. Our company will recommend appropriate solutions to customers based on each customer's requirements.
Available Hologram Background
More than ten available hologram backgrounds to do custom printed. These images contain many overt, covert security features, and present attractive dynamic change. They offer proper anti-fake and beauty to packaging products at the same time.
Printing information
Our company provides five different forms of printed information, This customized information can be printed on our hologram background. The following are the details related to the printing information.
Logo Printing, Text Printing, QR Code Printing, Serial Printing, Barcode Printing
Three Solutions Of Printing Method
To print QR codes, serial numbers, random numbers, batch numbers, texts, logos, etc on our hologram patterns, we have three solutions. All these three solutions have their advantages and disadvantages, used for different applications and functions.
They are separately TTR printing, UV inkjet printing, and Laser numbering. We will choose the suitable numbering methods for you, considering both the quality and cost.
| Printable Holographic Stickers Gallery |
Suzhou Image Laser Company self-researched and developed a series of generic holographic textures, which can be used to print the information you need. Those labels are widely applied to package items for promotion and brand enhancement purposes.
Because generic textures are available to other users, they provide limited security for product applications. If you pay great attention to beauty and want to embody your brand information on stickers, printable holographic stickers can fully meet your requirements and have the characteristics of low MOQ, low cost, and personalized printing services.