2020 year is a special year for everyone in the world, every people's life are affected by the COVID-19. We believe that we will overcome it and have a better future, although it may take some time.
Due to the pandemic, people are paying more attention to personal hygiene, health, environment protection, food safety etc. Moreover, many brand owners are concerned about their brand protection, to prevent duplicated products which is a serious problem to their products, consumer's safety.
Optical hologram sticker is one of the best solutions for brand security protection, effectively avoid fake products. Nowadays, the combination of this high-end hologram sticker with QR code authentication is getting more and more popular. Especially for pharmaceuticals, cosmetics, food and electronics package, etc.
How can Holographic Stickers Prevent Fake Issues?
You may ask how can holographic stickers prevent fake and duplicates? The main reason is that hologram stickers are made of optical microstructures. Different from conventional printing stickers, it is difficult to duplicate.
Moreover, the label also applies a variety of optical anti-counterfeiting technologies. Regarding the security technology of holographic stickers, Suzhou Imaging divides it into three levels.
Level 1 Security: like 3D, flip-flop, dynamic guilloche is which easy to identify by naked eyes, also make the package more aesthetic and attractive.
Level 2 Security: Like micro text, hidden text etc. These features need to use some devices to identify, magnifier glass, laser pointer etc. This identification work is usually done by brand owners, distributors, not by consumers.
Imagine a consumer using a magnifier in the supermarket to identify the products is original or not, it's not impossible but not practical.
Level 3 Security: also can use nano text and some other covert features and not disclosed to public, only the original designer and master develop technician know it. And it is protected by encrypted file.
Only when there occurs disputes about authentic or fake products, this file will be used by a third party notarial office. People also call it as forensic security features.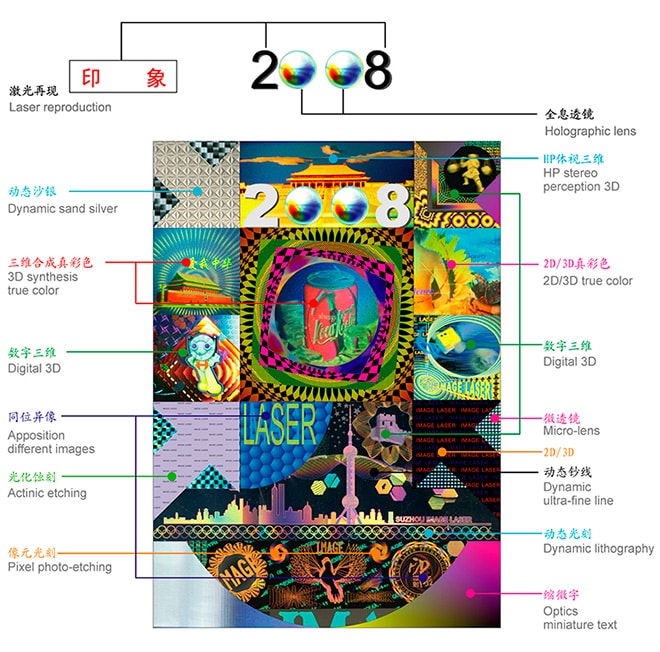 These three security levels are applied to hologram stickers products, which can give an overall high-security shield, avoid fake and duplicates, and enhance your brand. Especially for ID cards, security documents.
Where to Buy or Purchase High-End Hologram Stickers?
Since the hologram sticker is powerful and versatile, some people may ask, if my product wants to use it, where should I buy or purchase it? How to choose the right supplier?
Where Can I Buy Hologram Stickers?
Here we list some prestigious hologram manufacturers for your reference, they are all IHMA (International Hologram Manufacturers Association) members. IHMA is the world-renowned authority for holograms, based in the UK.
The first, Suzhou Image Laser Technology, headquartered in Suzhou, a city with a history of more than 2500 years, located east of China. With geographically advantage, as it's in the center of Yangtz Delta Economy Zone, and close to Shanghai.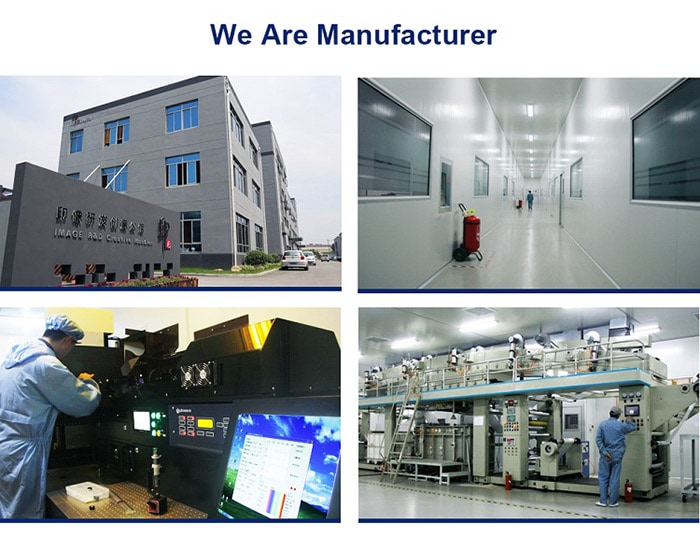 Suzhou Image was established in Shanghai in 2001 and moved to Suzhou in 2006, to expand the production and focus on R&D of optical hologram technologies. And the company provide optical security solutions for both governmental projects like security laminate for ID card, driver license, passports, credentials and certificates, and commercial brand protection.
Other manufacturers like De La Rue from UK, ITW, and Crown Leaf from the US, also provide similar solutions.
How to Select A Professional Security Hologram Manufacturer?
Our suggestion, when you select a security hologram producer, the company's certifications are very important, for example, ISO 9001(quality management system), ISO 27001(information security system), IHMA, and so on.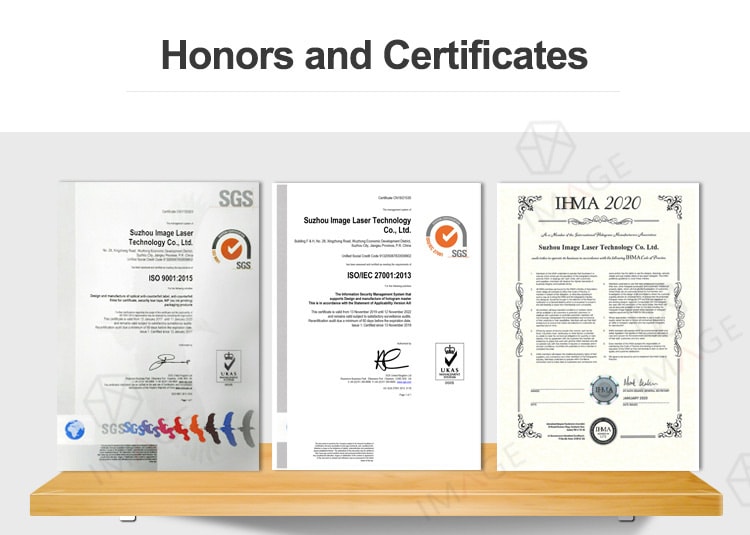 These certificates are the guarantee for the safety of the contract and security of the products. Click to know more points on how to select a professional security hologram supplier.
Following are related articles: